Felicity Huffman Turning Thanksgiving Tablecloth Into Scrapbook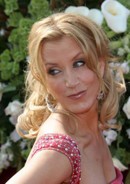 Desperate Housewives star Felicity Huffman planned to make this year's Thanksgiving Day celebrations last forever by scrapbooking all the notes family members wrote on her tablecloth.

The actress wrote messages of gratitude on her paper table covering and then invited her daughters and other young family members to scribble down what they most enjoyed about the day.

Appearing on the Ellen DeGeneres Show on Friday, she says, "Under each plate I wrote a quote of gratitude... and then everyone got pens round... and they wrote... little things that they were grateful for and what they remembered from the day.

"I'm gonna rip them up and put them in a scrapbook with pictures."