Felicity Huffman Launches Lifestyle Website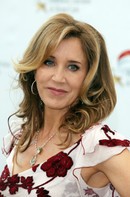 Felicity Huffman has launched a lifestyle website so she can network with Desperate Housewives fans when the show ends.

WhatTheFlicka.com, which went live on Thursday, offers a virtual space for mothers and women to chat, share tips and trade recipes.

The actress reveals she was inspired to create the site so she could keep in touch with viewers after the final episode of Desperate Housewives airs later this year.

Blogging about her new digital venture, she writes, "I don't want to say goodbye to this great group of fans, and since I can't invite you all over to hang in my kitchen sitting on the counters, cooking, laughing, sharing ideas and telling stories, I am going to create a virtual clubhouse where we can all still be connected and get the warmth, love and good advice I always look for from you, my family at large."

"I have been working on this for about six months now, and we have put together a great group of people who are sharing their thoughts and ideas. More importantly, I want it to be a place where readers can share their thoughts and wisdom and I can learn from you."

"So, come check it out, give me your feedback and hopefully we can make this a website where everyone can go for a good idea, a shortcut, a new cool thing, a rest, a laugh, or just to visit and sit on the counter and be surrounded by pals."