Favorites Came Up Short On Last Night's 'American Idol'

Random Thoughts While Waiting for
American Idol
to Start:
1.) Why are they still doing this ridiculous judge/host introduction at the beginning? And is that a third Buffer brother doing the honors? "Let's get ready to 'Idol'!"
2.)
Kara
appears to be wearing aluminum foil with hair that came to 2009 along with Marty McFly in the DeLorean from 1983.
3.) Since this show sets the top ten, we can basically be certain that they won't use the judge's save this week. Otherwise, how would they determine the top ten if two contestants depart next week?
4.)
Paula
is WAY less stoned this week. During the past two shows it seemed like her head would just drift off her body like a helium balloon.
5.) Is it just me? Or does
Randy Travis
look more and more British every day? He seems ready to put on a tux with tails and say, "Good evening, Governor."
6.) Call me ignorant, but I always thought the Grand Ole Opry was a country theater. I had no idea it was a radio show or a sort of country Walk of Fame. Should I be embarrassed?
And now, on with the show!
Michael Sarver Sang "Ain't Goin' Down When the Sun Comes Up"
Randy Travis Said: Don't lose the wording, but you can sing some great licks.
Randy Said: Didn't show your vocals but it was fun.
Kara Said: Missed the big notes this week.
Paula Said: This suits you.
Simon
Said: I couldn't understand a single word you were singing. You could have been singing in Norwegian.
The Verdict:
Sarver seems like he's singing this song very well, but it's just impossible to tell with so many words. It's a task just to spit everything out. He sings the chorus nicely, country may suit him. There's just way too many words for him to ever settle into his performance or let his voice shine. This is a textbook example of a bad song choice.
Grade: C+
Prediction: Despite a shaky performance there's no denying his likeability as everybody seemed to cheer everything he said to the judges. Hard to see America going against the roughneck this soon.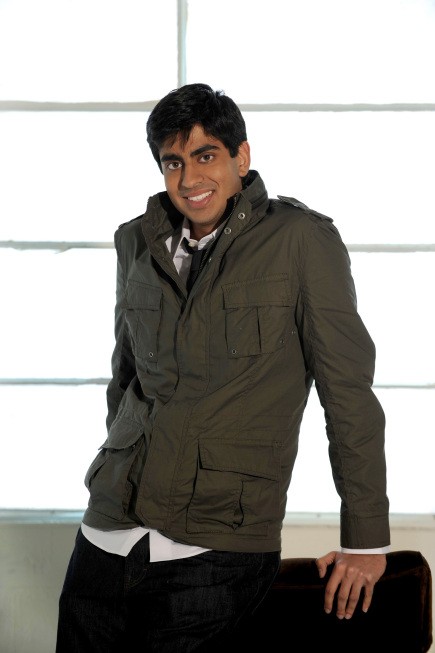 Allison Iraheta Sang "Blame it on Your Heart"
Randy Travis Said: Sing it with the pipes you have - you've got great pipes.
Randy Said: I thought it was dope.
Kara Said: You could sing the alphabet and sing it well.
Paula Said: You're an amazing artist.
Simon Said: You're rock solid. Verging on precocious (he said this in an insulting manner, though it's a compliment.)
The Verdict:
She sounds almost exactly like Patty Smyth (the one who fronted "Scandal") if she were born in Mississippi. Iraheta really knows how to work the stage. She seems to be having a bit of trouble with the phrasing at points and it's weakening her overall vocal. Still, it's hard to deny that she put it all into this tune and worked it out like a boozed out, tatted-up 35-year-old fronting a punk band at CBGB.
Grade: B-
Prediction: Now that Jasmine's gone, Iraheta is likely to control the youth vote. It doesn't hurt that she has the ability to kill it every week. She's safe despite being a bit out of her element.
Kris Allen Sang "To Make You Feel My Love"
Randy Travis Said: He's a strong ballad singer.
Randy Said: He's a tender dog (isn't that a dish at the Korean BBQ?).
Kara Said: Very Solid.
Paula Said: Really smart choice.
Simon Said: Terrific. You were completely in control of the song.
The Verdict:
The way he's sitting really requires a turtleneck, beret, and early 60's coffee shop filled with beatniks. Seated position aside, Allen is showing off the full range of voice that seems suited to an Adult Contemporary recording artist. It seems like it hits a ceiling when he reaches for larger notes, but when he keeps it cool, it's very smooth. Props for turning a Garth Brooks song into something like a classic Elton John Ballad.
Grade: B+
Prediction: Absolutely no way he's going home after that fine performance that even got Simon's support. I know I should hate him since he's so good-looking and talented, but even I find him likeable.
Lil Rounds Sang "Independence Day"
Randy Travis Said: She nailed that. She's got big pipes.
Randy Said: Didn't feel comfortable for me on you. (What interesting grammar!)
Kara Said: You did what you felt. Good for standing your ground. (Whatever that means)
Paula Said: Should have gone straight to the chorus.
Simon Said: Seemed like you were one of those girls who is forced to sing at a wedding and it didn't matter what song was requested. (Couldn't have put it better myself, Simon. Wish I had. Guess that's why you're there and I'm here.)
The Verdict:
It's quickly clear that this type of music doesn't suit Lil. Of course, this is another reason to due away with restrictive theme nights, but we'll have to make due with what the producers give us. She's definitely flashing the pipes Randy Travis mentioned, really flourishing in the chorus, but she looks uncomfortable on stage singing this type of music, not the dynamic performer we saw rocking Mary J. Blige in the semifinals. A noble effort, nonetheless.
Grade: B
Prediction: She got through country week relatively unscathed. This won't be her highest vote total, but she was good enough to survive.
Adam Lambert Sang "Ring of Fire"
Randy Travis Said: I'm speechless. I don't even know what to say about this boy.
Randy Said: Nine Inch Nails doing a country song. (Why didn't Lambert just sing the original version of "Hurt" then? If a non-country song is turned into a country tune does that still count?)
Kara Said: I've never seen country like that. (That's because it wasn't country, Kara. What's the point of a country night if people can just cover reworkings of country songs? They're not really doing country then are they?)
Paula Said: (No Clue. Paula Abdul Signature Loopy Rant)
Simon Said: What the Hell was that? A lot of people throwing their television sets out the window. Indulgent rubbish.
The Verdict:
I'll say right off that I don't understand the appeal of this guy. If he was playing Dr. Frank N Furter in the "Rocky Horror Show" he would absolutely rock, but as a pop star he just seems like a buffoon. This performance is borderline creepy, like a bad acid trip the Rolling Stones took while they were recording "Paint it Black". There's absolutely no denying that Lambert's vocals are absolutely mind-blowing. He'd give Sebastian Bach a run for his money (that's a compliment), but the arrangement on this song is so bad and the performance so utterly ludicrous that it's impossible to get excited about, especially when a good portion of it saw Lambert's eschewing his outrageous upper register in favor of laughable vocal gymnastics when he was barely even singing.
Grade: D
Prediction: Could the early favorite actually go down after two weeks? After that strange performance it isn't impossible. Remember that a lot of old people like this show and Lambert's not exactly in their demographic.
Scott MacIntyre Sang "Wild Angels"
Randy Travis Said: Scott surprised me more than anyone so far.
Randy Said: Looking for standout vocals.
Kara Said: You need to up your game a little bit.
Paula Said: Solid, Impressive performance, but the piano is a bit of a crutch.
Simon Said: Started by calling Paula stupid for suggesting Scott leave the piano (well done) then went on to say that Scott picked another song that went over his head.
The Verdict:
It seems the stylists have gotten to MacIntyre because he no longer looks like Napoleon Dynamite. He takes the song from something that sounded like another Bruce Hornsby cover to a performance reminiscent of big stadium Christian rock. A solid but spotty vocal and a fine performance at the piano, where he should be every single time.
Grade: B
Prediction: Like Sarver, he's too likeable to go home this soon, even if the judge's didn't love him. He's safe tonight with a solid effort.
Alexis Grace Sang "Jolene"
Randy Travis Said: Alexis did a great job. Understands what telling the story is about. Perfect.
Randy Said: Pitch problems all over it.
Kara Said: Seems like you lost your edge a little bit.
Paula Said: Took an artistic approach. Enjoyed the vulnerable soft side.
Simon Said: It was okay. We'll forget about it ten minutes time.
The Verdict:
She's made this sound a bit like a Wilson Phillips number with a banjo overdubbed in post production. Either she has trouble positioning the mic or she was experiencing audio troubles because her voice kept fading in and out for parts of the number. The vocals that came through clearly were filled with fiery passion. This girl has chops, despite always looking like she's forcing a performance on stage. A bit dreary, but a serviceable effort overall.
Grade: B-
Prediction: She's in real danger this week as her performance was actually quite forgettable. She may get swallowed up in the middle of a strong night.
Danny Gokey Sang "Jesus Take the Wheel"
Randy Travis Said: A soulfulness that most of us wish we had.
Randy Said: Didn't support the verses enough.
Kara Said: I wish I had ten minutes of the bigger portion.
Paula Said: Carrie Underwood would rush out to buy that record.
Simon Said: Said he agreed with Paula before insulting his coat, saying he was going on a polar expidition. (Pretty sure my joke is better, check it out below)
The Verdict:
Not surprising to see the church music director choosing a Christian song. It's also not surprising to see Gokey (probably the best singer in the show) whipping out some dynamic vocals that are just as good in the softer parts as they are in the sections requiring him to belt. He still looks a bit awkward onstage and that jacket makes it seem like he's a Russian soldier guarding a nuclear missile silo in Siberia singing during his break, but there's no denying his pipes. It's just too bad the song is so plain that he didn't really get a chance to show how great of a singer he is.
Grade: B
Prediction: Too well-liked, too good a song choice for his fanbase, and too much praise from the judges for him to be anything but a lock to stick around this week.
Anoop Desai Sang "You Were Always on My Mind"
Randy Travis Said: Heck, that was good man. People will rethink his capabilities as a singer.
Randy Said: This is the reason why we wanted you in the competition.
Kara Said: Biggest surprise of the night.
Paula Said: Anoop is back! Fit you like a glove.
Simon Said: Just went from zero to hero. One of my favorite performances of the night.
The Verdict:
Okay. So I forgot Anoop was still around (even though I've always liked him) and couldn't help but laugh when I though of him doing country. He quickly made me feel like a jerk with a smoky vocal and nice staid performance alongside a classy arrangement that totally transformed this Willie Nelson classic. He tried to oversing a bit at parts and add fifteen notes where one would do just fine, but this performance puts him right back in as a top dog in the competition.
Grade: A-
Prediction: Last week, Anoop may have had what will be his worst performance of the whole competition and survived. No way that one of his best is going to send him home.
Megan Joy Sang "I Go Walking After Midnight"
Randy Travis Said: Totally Unique. You'd have to like her.
Randy Said: I was quite impressed. It all really worked.
Kara Said: Perfect song. Perfect look.
Paula Said: Very good for the flu.
Simon Said: You should be sick every week.
The Verdict:
The arrangement sounds like a Hawaiian luau. The vocal sounds like a jazz singer from the 1940s. The performance is reminiscent of Kristen Wiig's impression of Barbie. I don't get it at all. She hit some good notes that the end but not nearly enough to save this from being very amateurish. Bonus points though for being in the hospital during the week and not being able to rehearse.
Grade: C
Prediction: She wasn't that great, but she'll get a ton of sympathy votes for being sick. Plus she has the backing of "Vote for the Worst" which can make a big difference in the more spread out portion of the competition.
Matt Giraud Sang "So Small"
Randy Travis Said: He did a great job.
Randy Said: Favorite performance of the night.
Kara Said: Amazing. Love you.
Paula Said: Your authenticity is unparalleled.
Simon Said: Outsang Danny. Great performance.
The Verdict:
He sounds a lot like One Republic but with more of a soulful vibe rather than a hip-hop flavor. This all works very well as he repurposes country into his wheelhouse retaining a bit of the dirt from that genre and letting it brilliantly tarnish the polish on his soul. This is a complete performance that somebody who just started watching the show at this point in the year would think was being delivered by that week's musical guest.
Grade: A
Prediction: Absolutely no way he's going out this week. Not after that performance, those looks, and that praise.
Final Thoughts
Overall, a very good night, which was surprising considering there really wasn't a country singer in the entire group. Randy Travis was one of the better mentors ever on the show with thoughtful and articulate criticisms of each singer, though he seemed to hate everybody's song choice at first. He was aware that they had to pick country tunes right?
The most intriguing thing about the evening was that many of the favorites came up short, while many of the people we were writing off last week gave very strong performances. The competition is wide open from this point on.
As for this week, the bottom three will include a few favorites. Adam seems destined to hit the bottom after a horrendously misguided performance that exposed how ill-suited he is to be a pop star and Alexis Grace was so forgettable that it's hard to see her drawing many votes. The third member of the bottom three just may be Lil after an out-of-her-element performance that wasn't up to her usual standards.
Lil will get to sit down quickly, leaving Alexis and Adam to sweat it out. Ultimately it will be that tiny little ball of hotness Alexis Grace that makes a quick departure and the competition loses an early favorite.
Of course, everybody seems to be a favorite at this point, right?
What did you think of Tuesday night's performances? Let us know in the comments!
Story by
Andrew Payne
Starpulse contributing writer