Father Of The Solid-Body Electric Guitar Tells His Own Story In New Documentary 'Les Paul: Chasing Sound!'

Now 92-years young, the legendary
Les Paul
, father of the solid-body electric guitar, inventor of overdubbing and multi-track recording, king of the '50s pop charts and rock 'n' roll pioneer, tells his own rags-to-riches story in a performance-filled documentary by filmmakers John Paulson and James Arntz. From his hometown in Waukesha to Chicago, Nashville, Hollywood and the National Inventor's Hall of Fame, follow the life and times of this irrepressible superstar. Featuring interviews with music greats
Jeff Beck
,
Tony Bennett
,
B.B. King
,
Steve Miller
,
Bucky Pizzarelli
,
Bonnie Raitt
,
Phil Ramone
,
Kay Starr
, along with industry pioneer
Ahmet Ertegun
, the film debuts on DVD August 14, following its American Masters national premiere on Wednesday, July 11th at 9pm (ET) on PBS (check local listings). Boasting a wall-to-wall soundtrack of greatest hits,
American Masters Les Paul: Chasing Sound!
contains extensive bonus material, including 90 minutes of exclusive footage.
Les Paul has been "chasing the perfect sound" since his boyhood in Waukesha, Wisconsin, when he punched new chords into his mother's piano roll and turned his bedsprings into a radio antenna which would pull in the raucous jazz broadcasts from Chicago and the lonesome harmonica from the Grand Old Opry. Irascible, egotistical, indefatigable, an inveterate tinkerer and practical joker, he's the last of that self-educated, brilliantly innovative generation of musicians and media pioneers who revolutionized popular music and re-invented the global culture.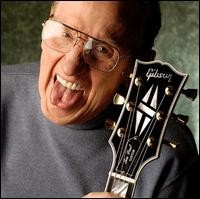 By 1952 Les Paul was not only the most popular guitar player in America, he was an innovator in guitar and electronics design. Known for his unique sound, Les Paul achieved new levels of accomplishment with his creation of the ingenious recording techniques of overdubbing and multi-track recording as well as the solid-body electric guitar – and laid the foundation for the rock 'n' roll revolution.
American Masters Les Paul: Chasing Sound!
contains over 90 minutes of bonus material exclusive to the DVD. Extras include extended footage of Les Paul at his 90th Birthday Celebration jamming with notable guests: Tony Bennett,
Keith Richards
, Steve Miller,
Tommy Emmanuel
,
Merle Haggard
, Kay Starr,
Chet Atkins
and others, recorded live at the Iridium Jazz Club in New York City. Also included is a fascinating discussion with Paul about his pioneering inventions and rare television appearances from the early '50s. The film itself was shot in Hi-Def and is presented in 16x9. It features 5.1 Dolby Digital Surround Sound as well as SDH subtitles for the deaf and hearing impaired.
American Masters Les Paul: Chasing Sound!
is a co-production of John Paulson Productions, Thirteen/WNET New York and Icon Television Music. It is directed and produced by John Paulson, written and produced by James Arntz. Executive producers are Susan Lacy and Glenn Aveni.