'Fast & Furious': A Love Story
When I first heard that yet another installment of the "
Fast & Furious
" was coming out, I stifled a yawn and made a mental note to catch it on TBS 6 months later. But after watching the trailer and seeing a good amount of car chases, explosions, and
Vin Diesel
looking delicious as ever in that wife beater of his…I was convinced to see it in theaters. What I saw wasn't your run-of-the-mill action flick, but dare I say it, something deeper? The storyline is well crafted, with moments of laughable dialogue, but that's to be expected. I never saw a love and revenge plot coming out of a testosterone-fueled franchise.
We first meet Dominic Toretto in "
The Fast and the Furious
" and about five years has passed since then. He's still boosting 18 wheelers and stealing cargo, with the aid of his long time girlfriend, Letty Ortiz (
Michelle Rodriguez
). But when Dom decides that this life is getting too dangerous for Letty, he leaves her behind while he goes ahead alone. When Letty winds up dead in a horrific car crash, Dom loses himself emotionally. He feels tremendous guilt at her death, as he feels it's his fault he left her alone. What follows is a revenge driven rage reminiscent of "Quantum of Solace": action hero loses the love of his life, tracks down her killers, and finds some small comfort in their demise. The writers really managed to flesh out the characters of Dom, Letty, Mia (
Jordana Brewster
), and Brian (
Paul Walker
) with this film. You feel more connected to them, and more concerned for their well being also.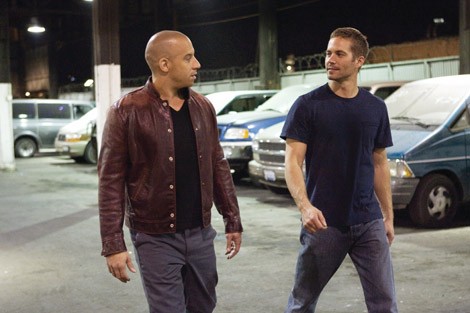 Emotional storyline aside, the bromance between Dom and Brian is worth mentioning. There is a lot of friction between these former partners/ sometimes friends. Dom doesn't trust Brian for being a cop, and for leaving his sister, Mia. Brian still doesn't know whether to turn in Dom for his crimes, or protect his friend and look the other way. Things come to a boil when Dom finds out Brian has been keeping secrets about Letty from him. Between the dialogue screamed at the two (faces inches apart) and all the rumbling and full contact throw-downs going on, it makes you wonder… For a good laugh at the bromance between Dom and Brian, check out the re-cut trailer entitled "the Fast and the Curious" on YouTube. My interest in the "Fast and Furious" franchise has been renewed, and with talks of a fifth installment on the horizon, it's safe to say others have their faith back too.
Story by
Ashley Demma
Starpulse contributing writer