Fashion Star of the Week: Jennie Garth

Star of the CW's new "
90210
,"
Jennie Garth
, was already looking quite cool and refreshing for summer at the premiere of the movie "
Grey Gardens
" held at Grauman's Chinese Theater in Los Angeles on April 16th.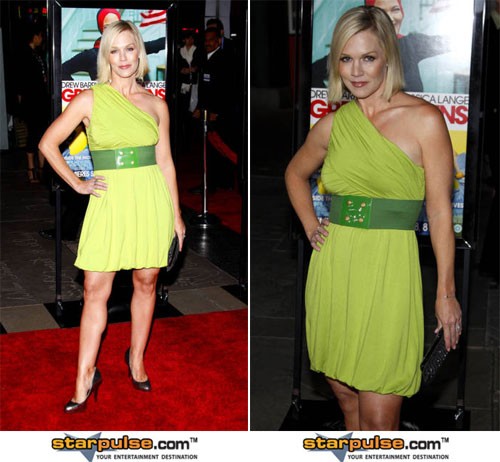 The Outfit:
An Alice + Olivia
lime colored one shoulder pleat drape dress
.
Sassy Factor:
This dress looks extra chic on Jennie with the addition of an elasticized waist belt in a darker shade of green.
Accessories:
The accessories on Jennie are minimal - dangling earrings, a bracelet on one hand and a few rings. There is nothing too flashy that would take away from the overall look.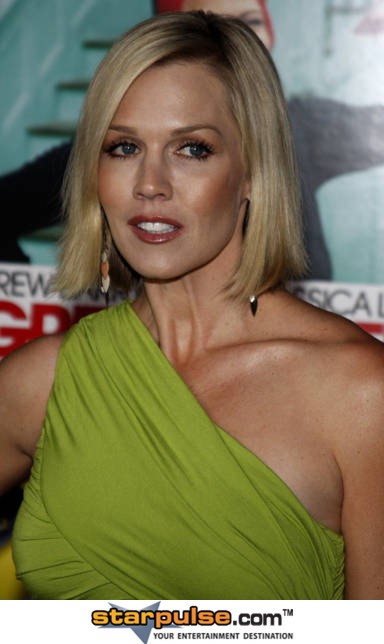 Get the look:
This Alice + Olivia dress is so affordable we are not even going to suggest a knock-off version. You can get the real thing. The real thing ya'll! You just have to decide if you are going to get it at the Bloomingdale's rate of $264 (which comes with a free make-up prom kit) or the
Saks Fifth Avenue
rate of $198 or the
Nordstrom
rate of $195. Either way, you are still getting a celebrity look at a major bargain. Happy shopping!!!
What do you think of Jennie's look? Make a comment!
Story by
Doshka Harvey
Starpulse.com contributing writer
Check out past "Fashion Stars":
Leslie Mann
Chelsea Handler
Ashley Tisdale
Jaime Pressly
Claire Danes
Rose Byrne
Mariska Hargitay
Taraji P. Henson
Freida Pinto
Rachel Weisz
Kate Winslet
Cate Blanchett
Padma Lakshmi
Taylor Swift
Becki Newton
Eva Mendes
Lake Bell
Kristin Cavallari
Cameron Diaz
Rumer Willis
Hayden Panettiere
Monique Coleman
Blake Lively
Kristen Bell
Gabrielle Union
Demi Moore
Charlize Theron
Jada Pinkett Smith
Anne Hathaway
Liv Tyler
Malin Akerman