Fashion Fail: Adrienne Bailon Wears A Hideous Bikini On Miami Beach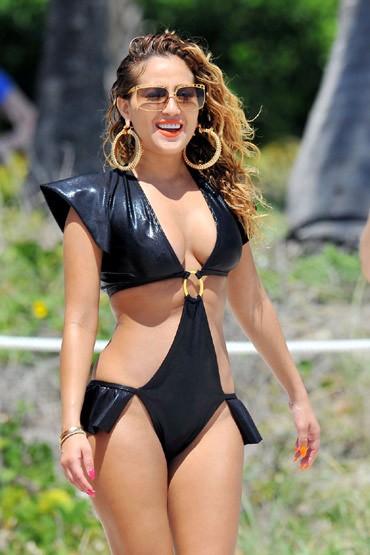 Former Cheetah Girl Adrienne Bailon was spotted on the beach in Miami Thursday wearing perhaps the most ridiculous swimsuit ever while filming her new reality show "Empire Girls".

The star opted for a black leather mono-kini, giant hoop earrings, neon orange heels and neon orange and pink nail polish. It's the first swimsuit we've ever seen with shoulder pads. She looks like this guy's concubine.

Adrienne's new show, which airs on the Style Network, chronicles her life in New York city with best friend Julissa Burmudez.

In early March, Adrienne had a major wardrobe malfunction while wearing another silly outfit, and a light breeze left her more exposed than she expected. Sans underwear and wearing a sheer see-through bodysuit, she had what can best be described as half of a dress that hung unsecured over her lady-parts, and when the wind blew - up went the dress.

And plenty of photographers were on hand to catch the moment on film.

Adrienne was reportedly devastated over the incident.

"The wind blew and despite what other girls may do, this is really a terrible accident to me. I'm really upset, but I'm even more upset about what my parents might think," she told GlobalGrind.com.
"I want to be known for my talent. I love the idea of being sexy, but I've never been in this business to sell sex, I've been in this business to sell my talent. The truth is, when you look at the pictures, you don't realize that the wind really did blow my dress, and I don't really know what else to say about it."