Farrelly Brothers Breathe New Life Into 'The Three Stooges' (Video)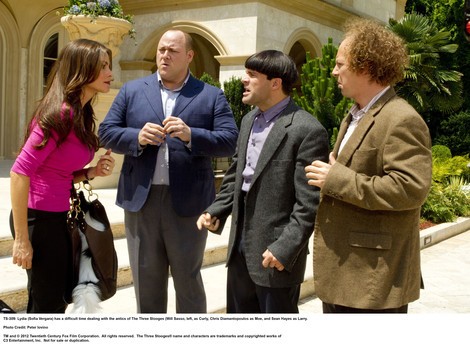 First I must say that I have never been a fan of 'The Three Stooges.' Never watched them on TV way back when or understood their appeal.  Slapstick, over the top comedy has never been my thing.
So you can imagine how much I was dreading seeing the Farrelly Brothers new film 'The Three Stooges.'  Well guess what?  To my surprise, I absolutely loved it and I LMAO.
This has a lot to do with the three actors portraying these guys. Moe (Chris Diamantopoulos) Larry (Sean Hayes) and Curly (Will Sasso) are absolutely spot on in bringing these iconic characters to life.
Yes, the humor is campy, silly, but it's funny.
Two Jews on Film - Written by Joan Alperin Schwartz
Briefly, the film is broken down into three episodes/acts.  The story (as if it matters) is about three babies who are left on the doorstep of any orphanage run by nuns.
The newborns Moe, Larry and Curly grow up finger-poking, nyuk-nyuk-nuyking and woo-wooing their way to adulthood.
When they find out that the orphanage is on the verge of being closed down due to financial problems, the guys set off into the world to find the necessary cash ($800 million plus) to save the only home they've ever known.
What happens next is all very nonsensical and you just have to go with it.
The film was written by Peter and Bobby Farrelly along with their boyhood friend Mike Cerrone ('Me, Myself & Irene') and to get an idea of some of the humor...
Larry David (Seinfeld) plays Sister Mary-Mengele, Jennifer Hudson is a singing nun, Jane Lynch (Glee) is a sweet nun, Sofia Vergara is trying to get her rich husband knocked off, and the cast of 'Jersey Shore' is... well... the cast of Jersey Shore.
'The Three Stooges' is a blast from the past and it's also a blast for the present.  I gave this movie 4 out of 5 bagels and John was close behind. Check out our video to see his score and a few other things.
'The Three Stooges' opens in theatres Friday April 13th.  Don't miss it.