Farrah Abraham Says She's Very Happy With The 'Seven Figure Settlement' She Received For Her Sex Tape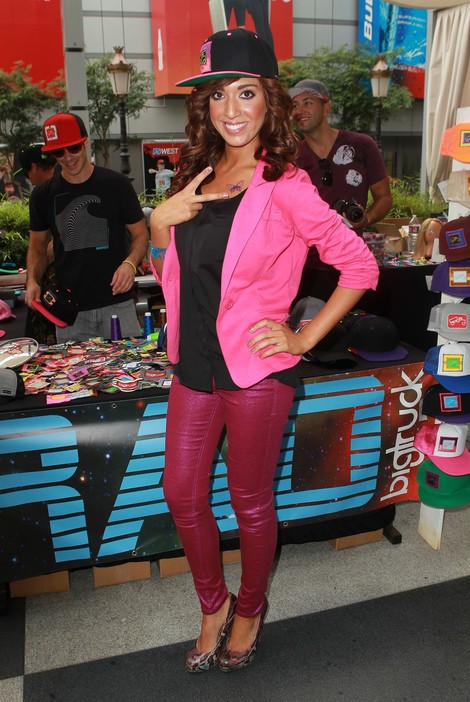 Farrah Abraham is thrilled about her new sex tape, saying she's very happy with the paycheck she's received from Vivid Entertainment for the rights to distribute it.

The former Teen Mom star, 21, has shared her plans for the future now that she's got her first, and probably only adult film role -- ahem -- under her belt.

"I am happy with the seven-figure settlement I have reached with what I feel to be the best adult entertainment company in the industry, Vivid," Farrah tells In Touch Weekly. "I look forward to my future goals of completing my Master's degree and focusing on being a great mother for my daughter as well as many other culinary business endeavors in my future."

The reality TV star initially denied the existence of the tape, officially titled "Farrah Superstar: Backdoor Teen Mom," intending for it to look like a celebrity sex tape leak despite starring bigtime male porn star James Deen.

The truth has since been, er, exposed, and the professionally shot adult film will be released online on May 6 and then in stores on May 14.

Vivid honcho Steve Hirsch says "fans will be shocked at how truly explicit it is" and that the footage in the 70-minute film "is amazing."

"This is a risk for me to take; however, I feel comfortable with giving the rights to Vivid, a company I know can handle the media and press surrounding my sexuality," Farrah says.

Ultimately, Farrah's happy with the outcome and is looking forward to moving on to better things for herself and her four-year-old daughter Sophia.

Read more about Farrah's story in the new issue of In Touch Weekly, on newsstands Wednesday, May 1.