Farrah Abraham Lands Six-Figure Deal With Vivid Entertainment For Sex Tape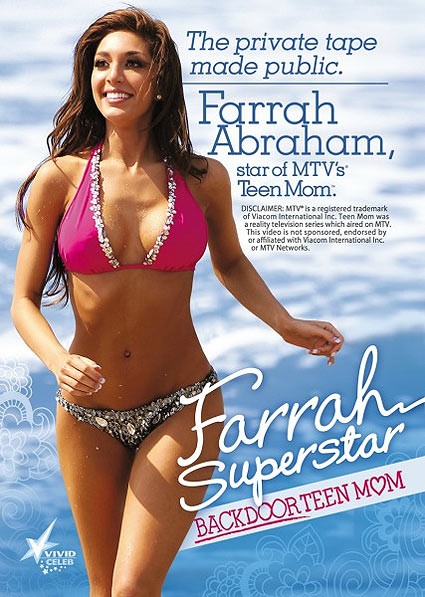 Farrah Abraham is showing Octomom how it's done -- the reality TV star just inked a lucrative deal with adult entertainment giant Vivid Studios to distribute the sex tape she shot with adult film star James Deen earlier this month.
The deal is reportedly in the high six-figure range and close to $1 million, according to TMZ.com.

The former Teen Mom star originally denied the existence of the video -- which was intended to look more like a leaked sex tape than something professionally filmed -- but her co-star spilled the beans because, for some reason, a porn star is virtuous enough to not tell a lie.

"Since word of this tape got out, we've been overwhelmed with inquiries about whether or not we had acquired it," said Vivid founder/co-chairman Steven Hirsch. "I'm happy to confirm that we have purchased it. We went after this movie as vigorously as any sex tape we've ever pursued. We felt it was definitely worth it, not only because of Farrah's popularity, but because the footage itself is amazing."

The 21-year-old mother of one claims she made the tape to preserve the way she looked at her age forever, and she accomplishes just that in the 70-minutes of "non-stop erotic action" in "Farrah Superstar: Backdoor Teen Mom."

In case you were wondering about the title -- yes, it does refer to that.

"I think many fans will be shocked at how truly explicit it is, including stunning backdoor scenes," Hirsch adds. "Farrah's looks remind me of a young Kim Kardashian and we all know how her story turned out."

Does this mean that Keeping Up With The Abrahams is on the way?

Farrah got pregnant at age 16 and was featured on MTV's "Teen Mom." The father of the baby, Derek Underwood, was killed in a car accident just months before the birth of their daughter Sophia.

The video arrives online at vivid.com on May 6 and hits stores on May 14. Mark your calendars.