Farrah Abraham Flaunts New Implants, Says She's 'Looking Amazing'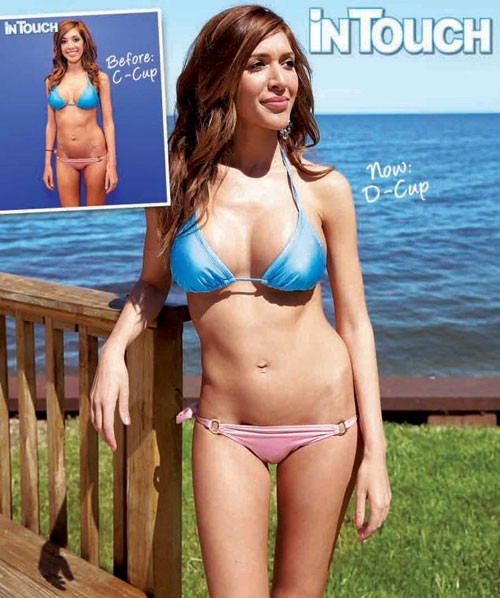 Former Teen Mom star Farrah Abraham has been flaunting a pair of new assets recently after announcing to In Touch Weekly that she recently went under the knife for her second breast augmentation surgery.

The reality-turned-adult-film star underwent surgery on May 31, just days after turning 22, which is the minimum age a woman can get silicone breast implants. Farrah had her saline implants replaced with the larger "more natural" looking ones because her saline implants "felt like water balloons."

"I look more natural. I want to look my best," Farrah told In Touch. "And I'm looking amazing."

Farrah went from a C-cup, which she had done in 2011, to a D-cup, costing her $7145.

Farrah hosted a pool party at the Sapphire Pool & Day Club in Las Vegas, Nevada, on Friday, showing off her new assets in a tiny blue bikini.

"I would not get boob implants that were porn-star status," she added in her interview with In Touch. "I'm very realistic about keeping myself looking natural."

Too late.

Check out more pics of Farrah at the Vegas pool party after the jump, and head over to InTouchWeekly.com to see photos of Farrah's body altering adventure, including before, after -- and during -- surgery, or pick up the latest issue of the magazine.