Farrah Abraham Celebrates 22nd Birthday Promoting Her Sex Tape At An Adult Film Convention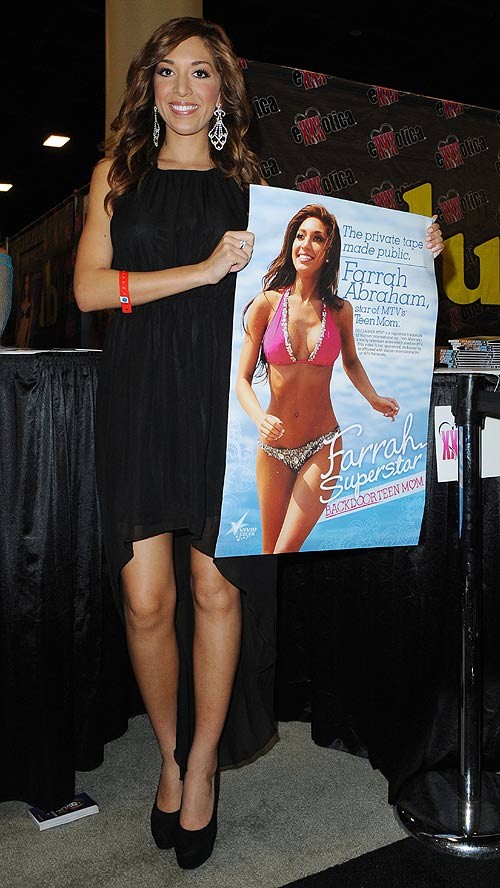 Former Teen Mom star-turned-adult-film-star Farrah Abraham celebrated her 22nd birthday Friday at an adult film convention in Fort Lauderdale, Florida.

Abraham was at the Exxxotica Expo 2013 at the city's convention center, rubbing elbows (among other things) with several porn stars, including the legendary Ron Jeremy.

She signed posters for fans of her sex video, "Farrah Superstar: Backdoor Teen Mom," which was originally intended as a private tape for herself (yeah, right) and posed for photos with fans for a cool 20 bucks. She also showed off her skills by orally pleasuring a birthday cupcake and sucking on a hookah on display at one of the booths.

Farrah posted a short video to her Keek page during the event, saying, "...there's concerts going on, a lot of girls, a lot guys, a lot of swings, a lot of.. rides of weird sorts. But, I am very happy that I got to meet a lot of cool fans of a different genre and I won't regret it!"


The reality TV star sold the video to adult film giant Vivid Entertainment, cashing in for about seven-figures. Her current six-city promotional tour is expected to gain her about another $80k.

Despite the success of the video, Farrah told Us Weekly that her adult film experience was a "one-time moment."

She has no regrets though, telling In Touch Weekly, "I'm an honest, hard-working, educated, well-balanced individual. If my daughter wants to follow in my footsteps one day, I'll be extremely proud."

Wait, what?

Check out more pics from the event below...