Fantasy Records To Release Tift Merritt's 'Another Country' Feb. 26

After two records and a Grammy nomination,
Tift Merritt
took hiatus with a piano in Paris and was rewarded with an unbridled inspiration and a wealth of her most accomplished songs to date. On February 26, Concord Music Group's Fantasy Records will release Merritt's
Another Country
.
After intensive touring, Merritt erased her grueling schedule and rented a flat with a piano in Paris's 10th arrondisment planning to take time off. Merritt recalls, "Days were wonderful there. I wore the same clothes nearly everyday. I would take a coffee in the street, say hello to the good people in the little wine store across from my door," she writes. "I cannot explain what happened except to say that there were never enough hours in the day to write, and there was always kindness at hand. I took pictures. I wrote stories. I played piano. I wrote songs."
These songs together comprise Merritt's third recording
Another Country
. Merritt describes the writing as a plainspoken look at the distance we all attempt to cross: between two people, between one heart and the rest of the world.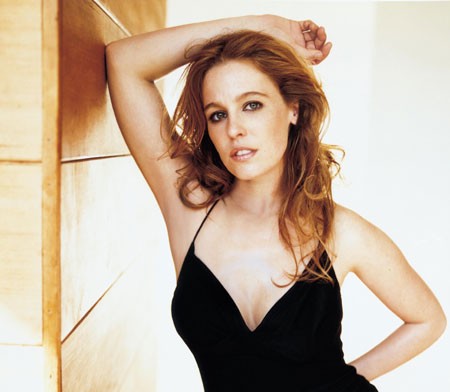 "Why isn't Tift Merritt famous? For one thing, she's responsible for one of the best acoustic guitar strums of 2004-the simple notes that usher in "Stray Paper," the opening cut off her new album Tambourine. They're everything they should be and nothing more: thick, melodic and in service to the singer. And when coupled with the track's lyrics, the song suggests a stately Neil Young, but with Merritt's composed, gorgeous voice rather than a world-weary falsetto."-Pitchfork

"Merritt's voice is a magical combination of cool reserve and effortless warmth"-Entertainment Weekly
Merritt's debut
Bramble Rose
earned spots on both Time Magazine and the New Yorker's year-end Top Ten lists.
Tambourine
, her sophomore album, was Grammy nominated for Country Album of the Year and earned numerous accolades from press and fans. She has appeared on "The Tonight Show" and "The Late Show with
David Letterman
," and shared the stage with
Elvis Costello
,
Gillian Welch
,
Emmylou Harris
,
Ryan Adams
,
Willie Nelson
, and
Nickel Creek
. Her Austin City Limits television performance was released on DVD in October of 2007.
Another Country
was written by Tift Merritt, produced by George Drakoulias, and recorded by David Bianco. The players include guitarists
Charlie Sexton
and Doug Pettibone and Tift's longtime band, Zeke Hutchins (drums), Jay Brown (bass) and Danny Eisenberg (keyboards).
Merritt will also host her very own public radio program starting in early '08. A program of artist-to-artist radio interviews entitled "The Spark" will debut on Marfa, Texas Public Radio on January 27, 2008. Merritt's very first guest is Nick Hornby.
A writer, singer and sometime photographer, Tift Merritt is a North Carolina native who lives in New York City and longs for Paris.
Tift Merritt's "Another Country" US Tour Dates:
Mon March 17 Philadelphia Johnny Brenda's
Tue March 18 Northampton, MA Iron Horse
Wed March 19 New York City Mercury Lounge
Fri March 21 Alexandria, VA Birchmere
Sat March 22 Durham, NC Carolina Theater
Fri March 28 New Orleans Parish/HOB
Sat March 29 Pittsburgh Club Cafe
Sun March 30 Ashland, KY Mountain Stage/Paramount Theater
Tue April 1 Toronto El Mocambo
Wed April 2 Ann Arbor, MI Ark
Fri April 4 Chicago Schubas
Sat April 5 Madison, WI High Noon Saloon
Sun April 6 Minneapolis Cedar Cultural Center
Tues April 8 Denver Bluebird Theater
Fri April 11 Vancouver Plaza
Sat April 12 Portland Doug Fir Lounge
Sun April 13 Seattle Tractor Tavern
Tue April 15 San Francisco Great American Music Hall
Thu April 17 Los Angeles Troubador
Fri April 18 San Diego Anthology
Sat April 19 Tucson Plush
Mon April 21 Austin Parish
Tue April 22 Dallas Cambridge Room
Thu April 24 Atlanta Five Spot
Fri April 26 Wilkesoro, NC Merlefest
Listen:
"Another Country"
Windows
|
Quicktime
"Broken":
Windows
|
Quicktime
(Streaming audio and/or video links may expire without notice)