Fantastic 'Inglourious Basterds' Out On Blu-ray & DVD Dec. 15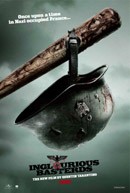 Cinematic icon and filmmaker
Quentin Tarantino
helms one of the most audaciously inventive, eagerly-anticipated films of the year, "
Inglourious Basterds
", coming to Blu-ray Hi-Def and DVD on December 15, 2009 from Universal Studios Home Entertainment.
Starring Academy Award nominee
Brad Pitt
in an audacious, adrenaline-packed, high-octane World War II revenge fantasy, "Inglourious Basterds" has been hailed as one of Tarantino's most stylish and entertaining films to date.
From its deceptively bucolic opening scenes to its incendiary final moments, "Inglourious Basterds" delivers a heady combination of fact and fantasy that never fails to surprise. Written and directed by acclaimed filmmaker Quentin Tarantino, "Inglourious Basterds" is available on Two-Disc Blu-ray Hi-Def, Two-Disc DVD Special Edition, Single-Disc DVD and download to own. Both the Blu-ray and Two-Disc Special Edition DVD come with a Digital Copy of the film for a limited time only just in time for the holiday season and over 90 minutes of startling and engrossing behind-the-scenes bonus features.
"Inglourious Basterds" - BD/DVD Trailer:


Brad Pitt shines as the bodacious American commander of a lethal team of Jewish-American soldiers known as "The Basterds" - whose exploits in occupied France strike terror in the hearts of the German rank and file and enrage the German High Command. The acclaimed cast also includes
Christoph Waltz
, who was named Best Actor at the 2009 Cannes Film Festival for his unforgettable performance as a charming but cunning Nazi officer,
B.J. Novak
,
Diane Kruger
,
Eli Roth
,
Melanie Laurent
, and
Michael Fassbender
.
In addition, notable veteran guest stars including
Mike Myers
,
Rod Taylor
,
Julie Dreyfus
and others contribute to this larger-than-life story that mixes pulp and propaganda in Tarantino's inimitable way.
Brad Pitt as Lt. Aldo Raine interrogates a German soldier.


Bonus Features:
All three editions of "Inglourious Basterds" include:
-Extended & Alternate Scenes
-Nation's Pride - The film within the film "Inglourious Basterds" can be seen it its entirety
-Domestic and International Trailers
Both the Two-Disc Special Edition and Blu-ray also come with:
-Roundtable Discussion with Quentin Tarantino, Brad Pitt and film historian/critic Elvis Mitchell
-The Making of Nation's Pride
-The Original Inglorious Bastards - a salute to the original 1978 film
-A Conversation with veteran actor Rod Taylor
-Rod Taylor on Victoria Bitters, the Australian beer
-Quentin Tarantino's Camera Angel
-Hi Sallys - Gag Reel
-Film Poster Gallery Tour with Elvis Mitchell
-"Inglourious Basterds" Poster Gallery
-Digital Copy of "Inglourious Basterds"

Eli Roth discusses Enzo G. Castellari's original "Inglorious Bastards" film.


In addition to the above features, the "Inglourious Basterds" Blu-ray Hi-Def release includes:
-BD-Live- Access the BD-Live Center with your Internet-connected player to download the latest trailers, host a chat with your buddies, upload your own webcam commentary, and more!
In the first year of the German occupation of France, Shosanna Dreyfus (Laurent) witnesses the execution of her family at the hand of Nazi Colonel Hans Landa (Christoph Waltz). Shosanna narrowly escapes and flees to Paris where she forges a new identity as the owner and operator of a cinema.
Elsewhere in Europe, Lieutenant Aldo Raine (Pitt) organizes a group of Jewish American soldiers to perform swift, shocking acts of retribution. Later known to their enemy as "the Basterds," Raine's squad joins German actress and undercover agent Bridget von Hammersmark (Kruger) on a mission to take down the leaders of the Third Reich. Fates converge under a cinema marquis, where Shosanna is poised to carry out a revenge plan of her own...
Employing pulp and propaganda in equal measure, Quentin Tarantino's "Inglourious Basterds" weaves together the infamous, oppressed, real and larger-than-life stories of WWII.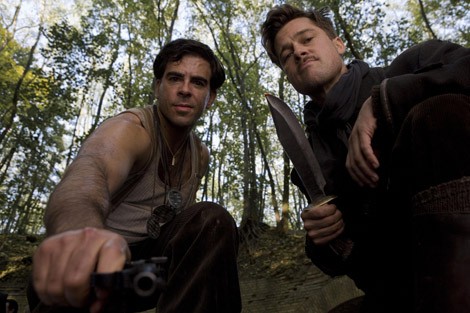 Image © The Weinstein Company Inc. All Rights Reserved.
Visit The Official Movie Site
Universal Studios Home Entertainment is a unit of Universal Pictures, a division of Universal Studios (www.universalstudios.com). Universal Studios is a part of NBC Universal, one of the world's leading media and entertainment companies in the development, production, and marketing of entertainment, news, and information to a global audience. Formed in May 2004 through the combining of NBC and Vivendi Universal Entertainment, NBC Universal owns and operates a valuable portfolio of news and entertainment networks, a premier motion picture company, significant television production operations, a leading television stations group, and world-renowned theme parks. NBC Universal is 80%-owned by General Electric, with 20% owned by Vivendi.