Fans Throw Food At Rihanna During U.K. Show, She Calls It 'An Epic Fail'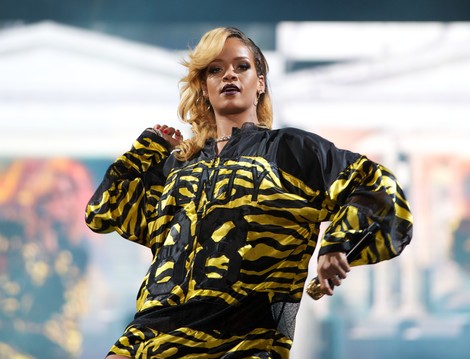 On Tuesday night, concertgoers angered Rihanna after throwing food at her on stage. The pop star was playing a gig in Manchester, England, during her "Diamonds" world tour and was forced to stop after fans started pelting her with snack foods.
The singer lashed out at the audience: "This is next level, there is a good crazy and there is a bad crazy, but when you throw s**t up here, that's an epic fail. I swear to God, cut that s**t out.
She added, "Really? Chips? Chips, though - it's that important? Ok Manchester, for those of you who want to (get) jiggy and have a good f**king time, say my name!"
Over the weekend, Rihanna joined her mentor Jay-Z on stage at London's Wireless Festival for a surprise performance of their hit track "Run This Town."
Afterwards, she raved about the festival, writing on Twitter, "London you were on one tonight!! One Love!!"