Fans Hit Back After Disney's 'Frozen' Lead Animator Calls Female Characters 'Difficult'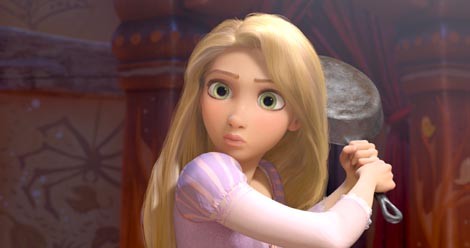 Disney has a princess problem. After catching some flack over the years for their depiction of women in their animated films, one of their lead animators has created another controversy with his latest comments.
While talking to Fan Voice's Jenna Busch, head of Animation on the film Frozen Lino Disalvo had some questionable comments. "Historically speaking, animating female characters are really, really difficult, 'cause they have to go through these range of emotions, but they're very, very — you have to keep them pretty and they're very sensitive to — you can get them off a model very quickly.
"So, having a film with two hero female characters was really tough, and having them both in the scene and look very different if they're echoing the same expression; that Elsa (Idina Menzel) looking angry looks different from Anna (Kristen Bell) being angry."
The Internet, as it is prone to do, immediately pounced on Disalvo's quote. It was pointed out that several recent female characters look incredibly similar: Tangled's Rapunzel is basically the same model as the two female leads in Frozen. The blog that pointed this out also wrote, "So that's their (blatantly misogynistic) excuse for scrapping all but two of the female characters; that they're too hard to animate? Those emotional female characters, they're all the same, right? Here's a hint: their 'femaleness' isn't what's making them indistinguishable."
Complex's PopCulture chimed in, "It's not that animating female characters experiencing emotions is a hard job, it's that it's hard to do when you're focusing on keeping them looking pretty and perfect 100 percent of the time, which no one is capable of doing because it's impossible."
Disney previously got in hot water for giving their heroic Brave character, Merida, a sexualized makeover on their website. Brenda Chapman, Brave's director, said at the time, "I think it's atrocious what they've done to Merida. When little girls say they like it (the dress) because it's more sparkly, that's all fine and good but, subconsciously, they are soaking in the sexy 'come hither' look and the skinny aspect of the new version. It's horrible!"