Fans Flock To See Brad Pitt At 'World War Z' Premiere In Times Square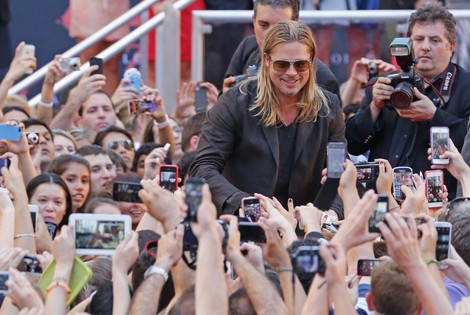 Brad Pitt waved and smiled at fans while signing autographs at the "World War Z" premiere in New York City on Monday.
The actor, who arrived solo at the event, took some time out for the fans, telling reporters: "I remember when I first got to L.A. and I saw the first person from a film, and I just got a big rush out of it."
 
He added, "They've been waiting here all this time...I just think it's a nice thing, and I'm a dad now."
The father of six attended the premiere without his fiancee Angelina Jolie. She has accompanied him to several events while he promotes the film. Earlier this month, she made her first public appearance in London after announcing that she underwent a double mastectomy in February.
The film centers on United Nations employee Gerry Lane (Pitt), who traverses the globe to stop a pandemic that is toppling armies and governments and threatening to decimate humanity. It hits theaters on Friday, June 21.