Fan Stabbed At Gregg Allman Concert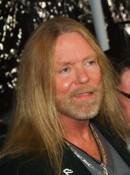 A Tennessee man was treated for minor injuries after he was stabbed at a Gregg Allman concert on Wednesday.

The Allman Brothers Band founder was performing onstage at the Ryman Auditorium in Nashville when a fight broke out in the audience.

Security officials stepped in to break up the scuffle, but not before Ronald Sixt Jr. had been stabbed in the face after reportedly bumping into a fellow concert goer. He was transported to a hospital and treated for his injuries.

Police were called to the scene and Carl Darren Brothers, 44, was taken into custody and later charged with aggravated assault, public intoxication and disorderly conduct.