Fan-Chosen Playlist For Mojo HD's 'London Live New Year's Eve Special' Topped By The Killers

Over the past month, MOJO HD's fans have been voting online to determine the play-list for the channel's second annual New Year's Eve special:
London Live New Year's Eve Countdown
which airs December 31, 10:00pm on MOJO HD, available on all major cable systems around the country. This holiday program will contain the most popular concert performances from this season's shows in groundbreaking state-of-the-art high definition, 1080i picture and 5.1 sound.
London Live New Year's Eve Countdown
, hosted by celebrated BBC1 radio and television personality Sara Cox, will serve as a soundtrack and visual focus for fans' high-energy New Year's Eve celebrations.
The winning selections, as voted by
London Live
fans, are (in order of votes):
The Killers
("Bones");
Amy Winehouse
("Rehab");
Maroon 5
("Wake Up Call");
Athlete
("Hurricane");
My Chemical Romance
("Welcome to the Black Parade");
Fergie
("Big Girls Don't Cry");
Kanye West
("Stronger");
Feist
("1234");
Bloc Party
("The Prayer");
Jet
("Bring it on Back");
Editors
("Racing Rats");
Jamiroquai
("Runaway");
Keane
("Nothing In My Way");
Beck
("Cell Phone's Dead");
KT Tunstall
("Hold On");
The Rapture
("Whoo! Alright Yeah...Uh Huh.");
Kaiser Chiefs
("The Angry Mob");
The Magic Numbers
("You've Never Had It");
The New York Dolls
("Gimme Luv & Turn on the Light") and
Lupe Fiasco
("Kick Push").
"Nowhere else will the serious music connoisseur find quite the confluence of talent that London Live provides," says David Asch, Senior Vice President, Programming & New Media, iN DEMAND Networks (MOJO HD's parent company). "
London Live
fans have chosen an incredible amalgam of high octane performances, all in stunning high definition, which will be the perfect accompaniment for New Year's Eve parties."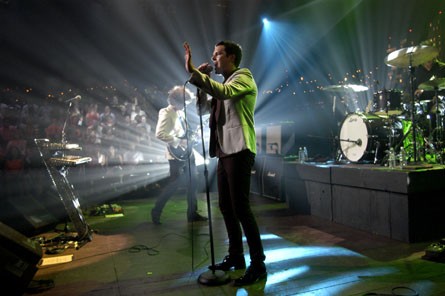 London Live is produced by 3DD Productions of London. Series Producer is Dominic Lobo. Executive Producer is Dominic Saville. Executive Producer for MOJO HD is Emilio Nunez. Siobhan Graham is Supervising Producer. More shows are currently in production for 2008.
About MOJO HD (www.mojohd.com) MOJO HD was created exclusively for the discerning upscale male, with attitude, wit and style, and is among the most widely distributed HD networks on cable. The company has been a pioneer in hi-def television since 2003. Original shows are about wide-ranging men's interests including high tech, finance, comedy-reality, adventurous travel, music, cuisine and spirits. Other programming includes high profile professional and college sports, movies, concerts, big events and is the exclusive HD cable home of "Heroes." The network is 100% high definition, all shown in pristine 1080i picture and 5.1 sound and is available as part of the HD offerings from Comcast, Time Warner Cable, Cox Communications, Cablevision, Charter Communications Inc., Bright House Networks, Mediacom and others.
MOJO HD is owned by iN DEMAND Networks, whose members are Comcast iN DEMAND Holdings, Inc., Cox Communications Holdings, Inc., and Time Warner Entertainment - Advance/Newhouse Partnership.