Famke Janssen Named Global Water Ambassador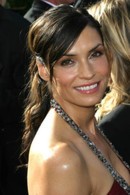 Actress Famke Janssen is helping to raise awareness about the need to conserve water resources as the new global spokesperson for a leading environmental organization.

The X-Men star, a United Nations Goodwill Ambassador, has been appointed the Green Cross' first Water Ambassador and she will work with charity officials to provide safe drinking water and sanitation to communities in less developed countries.

She says, "Water is the source of all life but I fear it will be the source of future conflicts if we do not act now to conserve the planet's reservoirs of water and find ways to share it fairly among all people. It is a great honor to support Green Cross International in its work to address the global water crisis."

Janssen's first assignments for the organization will include appearances at the World Water Forum and World Youth Parliament for Water events, which are currently taking place in Marseille, France.