'Family Guy' Takes On 'Star Wars' In 'Blue Harvest,' Coming To DVD Jan. 15

DVD Debuts January 15 from Fox Home Entertainment, Featuring Never-Before-Seen Footage, Commentaries, Interview With
George Lucas
and Others, and a First Look at the Next Hilarious Intergalactic Adventure!
A long time ago, but somehow in the future …Fox Home Entertainment presents an outrageous look at the
Star Wars™
universe when
Family Guy Presents: "Blue Harvest"
parodies the movie that started it all -
Episode IV A New Hope
- on DVD on January 15.
In the season premiere of the offensively uproarious series' sixth season, "Blue Harvest" finds Peter, Lois, Chris, Stewie, Brian and some of Quahog's finest in the middle of George Lucas' beloved science-fiction epic. Feel the Farce in the most irreverent and hilarious way possible; with Han Solo (Peter) Dumpster diving for furniture; Darth Vader (Stewie) soiling his diapers; Luke (Chris) battling against "Thai" fighters; and C-3PO (Quagmire) flirting with a 1980s dot-matrix printer.
Featuring hysterical cameos from
Rush Limbaugh
,
Chevy Chase
,
Beverly D'Angelo
and
Helen Reddy
,
Family Guy Presents: "Blue Harvest"
is "a dead-on homage that hilariously picks apart
Star Wars
, along with much of real life" (Associated Press).
The DVD features more than four minutes of never-before-seen material; an uncensored track; animatics; commentaries; interviews with
Seth MacFarlane
and George Lucas; and a first look at a now-in-production "Family Guy" Star Wars spoof (which goes by the working title of "Something, Something, Something Dark Side"). Also available for true "Family Guy" and "Star Wars" fans is a special edition DVD that features collectible packaging, trading cards, an exclusive brochure, 3-D glasses, a t-shirt and more.
The laughs come full Force when the Griffin clan puts a freakin' sweet spin on the greatest sci-fi saga ever told! With Peter playing the swashbuckling Han Solo, Lois as the sexy Princess Leia, Chris as an adolescent Luke Skywalker, Brian as a well-spoken Chewbacca, and Stewie finally embracing his dark side as Darth Vader, who knows what will happen. Filled with outrageous gags, spaced out droids and more intergalactic satire than you can shake a light saber at, this epic spoof is a must-own for every fan of
Family Guy
! The episode title comes from the code name used when filming
Star Wars: Episode VI Return of the Jedi
.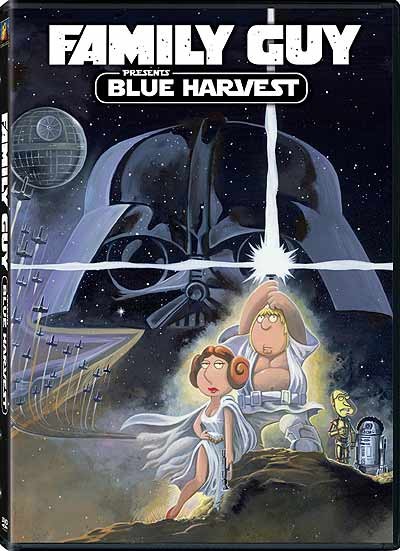 Family Guy Presents: "Blue Harvest"
Special Features:
Standard Edition:
- More than four minutes of exclusive DVD material
- Uncensored Track
- Animatics/Commentaries
- Interviews with Seth MacFarlane and George Lucas
- Teaser of next
Star Wars
spoof,
Something, Something, Something Dark Side

Special Edition:
-
Family Guy Presents: "Blue Harvest"
Standard Edition DVD
- Collectible Packaging
- 3-D Fight Scene
- 3-D Glasses
- T-Shirt
- Trading Cards
- Exclusive Brochure
STAR WARS and all related character names and other properties are trademarks and/or copyrights, in the United States and other countries, of Lucasfilm Ltd. and/or its affiliates. TM & © Lucasfilm Ltd. All rights reserved. All other trademarks and trade names are properties of their respective owners. A recognized global industry leader, Twentieth Century Fox Home Entertainment LLC (TCFHE) is the worldwide marketing, sales and Distribution Company for all Fox film and television programming on VHS, DVD and Blu-ray Disc (BD) as well as acquisitions and original productions. The company also releases all products around the globe for MGM Home Entertainment. Each year TCFHE introduces hundreds of new and newly enhanced products, which it services to retail outlets -- from mass merchants and warehouse clubs to specialty stores and e-commerce - throughout the world. Twentieth Century Fox Home Entertainment LLC is a subsidiary of Twentieth Century Fox Film Corporation, a News Corporation company.