Family Guy: Back to the Multiverse Developer: "We Made This Game for Fans"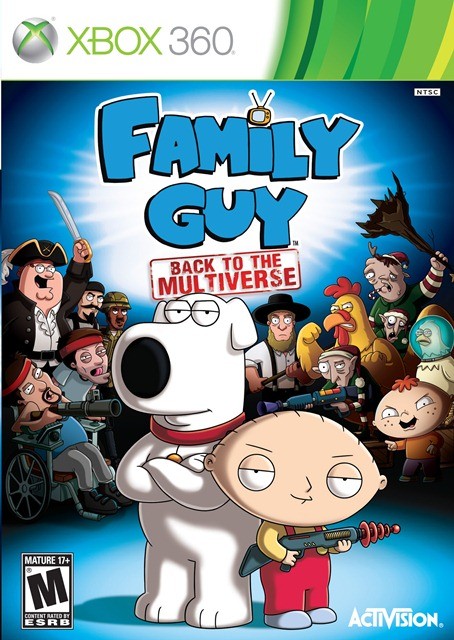 Family Guy recently hit a milestone not many shows get to claim—producing and airing 200 episodes. It was something unthinkable years ago for a show originally canceled by FOX.
But it's become a stable part of FOX's Sunday line-up over the years and there's a new licensed game coming out on Tuesday from publisher Activision and developer Heavy Iron that fans might be interested in.
Family Guy: Back to the Multiverse is a third-person cooperative game based on the episodes "Road to the Multiverse" and "The Big Bang Theory."
In the game, Stewie's evil half-brother Bertram inexplicably returns and wants to eliminate Stewie by building a multiverse-traveling remote control and leading him into a trap. Brian joins Stewie to stop Bertram and along the way, they'll encounter many familiar characters to fans of the show: the Giant Chicken, Long John Peter and more.
To learn more about the game coming out for all major platforms next week, I recently spoke via email with Lyle Hall at developer Heavy Iron about the game.
For those who aren't familiar with Family Guy: Back to the Multiverse, what's it about?
Family Guy: Back to the Multiverse is a new action game we made in collaboration with Activision, FOX and Fuzzy Door. It's an all-new adventure that also serves as a video game extension of the show's "Road to the Multiverse" episode and introduces new universes while also taking players to a number of familiar locales from back into the show's various stories.
How close is the game to the famous episode, Road to the Multiverse? Does it pick up where the episode ends? And didn't main villain Bertram die in Season 9...
The "Road to the Multiverse" episode is a fan-favorite and really allowed us tremendous freedom in what we do inside the game. We don't directly continue the story, but there are some references back to it and of course, we're reintroducing Bertram as a foil for Stewie.
The writers came up with a clever way to bring Bertram back using the multiverse and he's come to seek out Brian and Stewie to enact his revenge on them for killing him.
Have you consulted with writers on the show in the development of the game? What's Seth's involvement?
We worked very closely with writers from the show, Mike Desilets and Anthony Blasucci, who have worked on some very popular episodes. They really guided how the story worked, where we went in the multiverse, what the characters do and of course, the humor.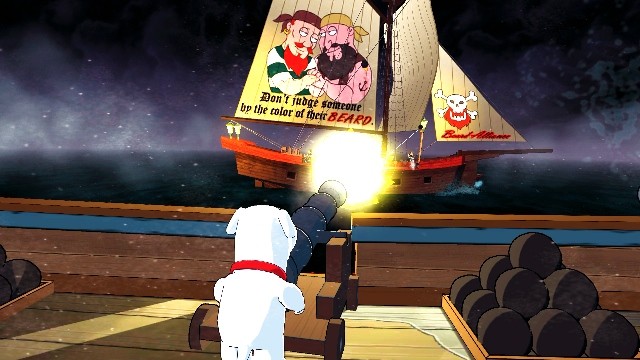 We also feel very fortunate to have had Seth MacFarlane's involvement. He is doing all the classic voices, and along with the rest of the show cast, it really gives the game the authenticity of the show.
Nobody knows how to time the jokes and humor as well as they do, and so we were very happy to have everyone onboard.
Can you tell us about some of the universes we'll see in the game? What's your favorite?
So there are a number of new universes that we go to… there's a universe ruled by Frat Boys, a universe where disabled people have taken over and one where the Amish are the dominant society.
Those are just a few of them.
I don't know if I can say yet what my personal favorite universe is because I don't want to ruin any surprises for the fans. You'll have to play the game and ask me again later, but there are some really fun and funny levels and a great payoff at the end.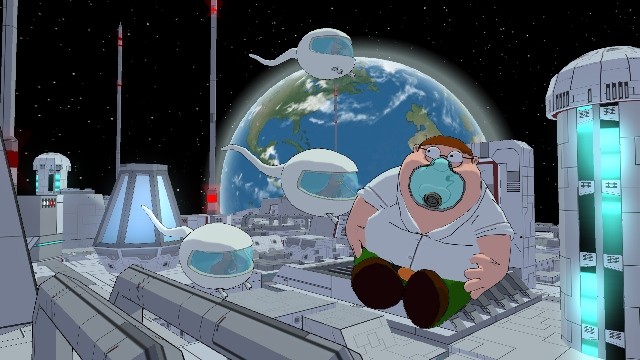 Talk to me about the gameplay. I know you'll play as Stewie or Brian in either single player or co-op, right? Describe some of the weapons and what the combat will be like. Does the game take any inspiration from existing games that players might be familiar with?
At its core, the game is an action adventure where you play primarily as Brian and Stewie. In single player you can swap between them on the fly and each has his own arsenal of different weapons, or in co-op each player controls one of them.
Weapons range from pistols and shotguns to some more esoteric weapons like a freeze ray, lightning gun and more. In our Challenges and Multiplayer Modes, you can play all 10 of the game's player characters. Combine that with 50+ different weapons in the game and there's a good amount of variety.
On top of that, each character has a unique special ability and we have a number of special use items like the Wacky Waving Inflatable Arm-Flailing Tube Man, Syrup of Ipecac and more.
The show, while on FOX, is known for being raunchy and not afraid to tell a joke (or a hundred) that will offend a lot of people. Will that humor be present and accounted for in the game?
We didn't hold back.
From the first level there are a number of jokes that push the boundaries just like the show does. Mike and Anthony wrote some truly hilarious lines that would fit right in with any episode of the show.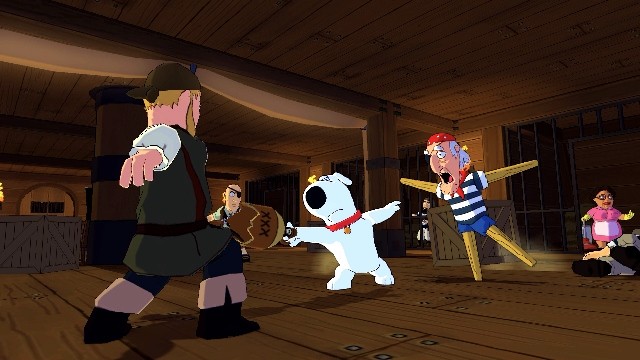 Talk to me about the type of games Heavy Iron does. I noticed you guys seem to only do licensed games whether it's something based on SpongeBob, the Incredibles, UFC or Up. Have you guys given any thought to doing an original IP sometime in the future?
We have had a long history of developing video games for high profile, licensed properties mainly targeted at kids and families. For many years, that was our former publisher's strategy for the studio.
When we became an independent developer back in June 2009, we saw that as our opportunity to make our own choices as to what we developed, and as the market has evolved, so have we. This is one reason why we have more recently created video games aimed at the core and mainstream audience, albeit still licensed.
That said, looking forward, it is highly likely that you will eventually see an original title from Heavy Iron.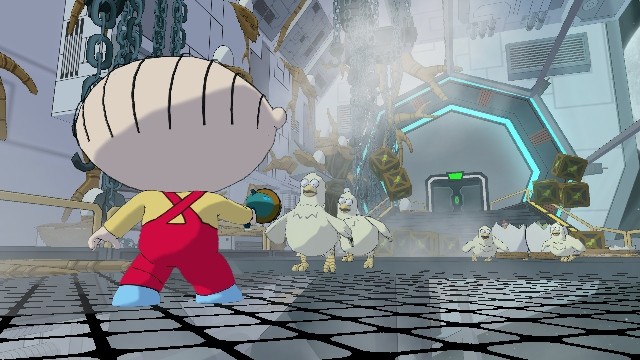 I'll be honest—licensed games based on TV shows and movies don't always have the best reputation in the video game industry. (I say this, however, as someone who actually played the game based on Prison Break beginning to end.) What would you say to gamers, as well as Family Guy fans out there, that might be a bit skeptical?
We made this game for the fans.
Our focus was to create an authentic, fun and funny Family Guy experience and to do that we made sure we worked in close partnership with the show's creators and writers, engaged the talent for true character performances, and made sure everything looked and felt right. We think we have succeeded in making an entertaining game that players and fans are really going to love.
Anything else you'd like to tell fans?
We are REALLY excited about our Family Guy: Back to the Multiverse game, and we can't wait for all of the fans to get their hands on it!