Family Comes First For 'The Real Housewives Of New Jersey'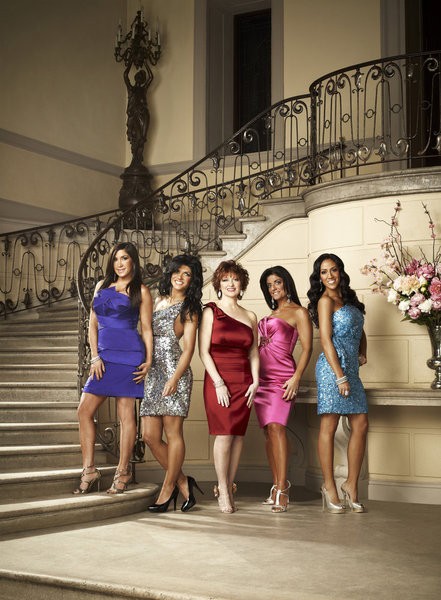 Episode 13: Child's Play No More: Sunday's episode of the Real Housewives of New Jersey centered on mothers and daughters as the housewives dealt with various issues concerning their young and all dealt with it in different ways. From Weight loss and self-acceptance, to self-respect and disrespect the Jersey moms had their hands full.
We find Teresa trying to coordinate a family photo shoot for her new cookbook but as the girls act up arguing and making faces, the photographers get frustrated and shut it down. They tell Teresa to take a break and they'll try again in an hour but a temperamental Milania only makes things more difficult continuing to act up.  As always with Teresa the task ends up being both a spectacle and a chore.
At their home, Kathy and Rich discuss how fast their children are growing up, namely their 16 year-old daughter Victoria who will be driving and dating soon and whose formal dance is soon approaching.  Kathy tells Rich that she thinks it's time she had the "talk" with Victoria, Rich disagrees saying she's daddy's princess she's not having sex until marriage.  Kathy tries to convince Rich that the world's a different place than when they were young and there's things she needs to know. Kathy says she's not condoning it and doesn't want it to happen but it will eventually. She tells the camera she knows Rich loves Victoria and that's his princess but she doesn't want him to be in denial either.
In Hoboken, Chris is tending bar where Jacqueline, Chris, Ashley Albie, Greg and Lauren are hanging out. Greg and Lauren ask Ashley what her ambitions are and what she wants to do with her life but Ashley really doesn't have an answer. Lauren says Ashley is a lot like her at that age unfocused and immature. Meanwhile, Jacqueline and Chris slip outside to greet a couple.  They return back to the bar a few minutes later, where Ashley's Dad Matt surprises her with a visit. Ashley is speechless and ecstatic to see her father, crying tears of joy and Lauren and Jacqueline are touched and happy that Ashley is happy too.  Jacqueline tells the camera that her and Chris both have a good relationship with Ashley's dad and stepmother.  She says the real reason they're here is to help her with Ashley because they want to confront Ashley about her direction in life, an intervention of sorts.  Melissa is discussing family matters of another sort when she discusses her dealings with her sister in law with her sisters.
At Melissa's house, Melissa tells her sister's of the result of the recent play date with Teresa. She recounts all the digs Teresa gave her during her recent visit about her singing aspirations.  Melissa says Teresa shouldn't talk; she's making money off of writing cookbooks that aren't even her recipes but her families and doesn't even think she enjoys cooking.  Melissa sister changes the subject and tells her sister about a conversation she had with their cousin. She says her cousin met with a psychic who told her that Anthony Melissa's father was contacting her and said she was going to be a big star.
Meanwhile, Caroline is trying to clean out of her closet and daughter Lauren joins her.  Caroline tells Lauren she has so many clothes in her closet because she has gained and lost weight over the years but has managed to keep it off and the clothes just don't fit her anymore.  Lauren tells Caroline she has the opposite problem, she tells Caroline she keeps the clothes that don't fit her in the hopes that it will inspire her to lose weight. However, in a way it looks like it defeats her as she tells Caroline no matter how much weight she loses, she doesn't think she can ever feel good about the way she looks.  Caroline is devastated that Lauren feels that way about herself and tears up. Caroline encourages Lauren to exercise more and tells Lauren that she's beautiful on the inside as well as out and will support in anything she wants to do, maybe she'll even work out with her.
Meanwhile Jacqueline's planned intervention for Ashley get underway when she invites her to lunch with Chris, her father Matt and stepmother. While waiting for Ashley, Matt tells Jacqueline that Ashley asked him for money to move to California. Matt tells Jacqueline he wants to see her follow-through start something and finish it.  However, it looks like a bad sign when Ashley is over 15 minutes late. Once Ashley does arrive her parents cut to the chase, where is she headed? What does she want out of life? What's her next move? 
Sugar and spice and everything nice, Kathy is out shopping with daughter Victoria for the winter formal. As they are trying on dresses, Victoria tries to convince Kathy that she is mature enough to wear a sexier dress. Kathy feels Rich may have been right and feels Victoria isn't ready for a she'll get wearing a sexy dress.  Then, very awkwardly Kathy begins giving Victoria the "talk" in the middle of the boutique with an audience. Victoria seemingly uncomfortable tells her mother she can take care of herself that's why she has a black belt.
Music is all that seems to be on Melissa's mind as Melissa's music producer K-Mack and Songwriter Corte Ellis stop by Melissa's to see her new home studio and work on her debut album.  Once in the studio, Melissa is overwhelmed and doesn't even seem to know where to start or when, when she misses K-Mack's cues.  Joe tells her she better start recording, so she does. Melissa's first take is "crazy" and not in a good way tone def is more like it. Joe tells her to turn him on with her singing, when doesn't she turn him on. Apparently, money can't buy you class but it can buy you a singing career, sorry Countess.  Melissa's next attempt is more successful but I wouldn't polish a Grammy just yet.  While Melissa's working hard at establishing her singing career, Caroline heads to the gym with Lauren to help and support her in establishing a successful workout routine.
At the gym, Caroline, Albie, Chris, Greg and Jacqueline join Lauren to support her new exercise routine and break a sweat with her but it seems like the only that Caroline and Lauren can do is break into fits of laughter and neither is taking it too seriously. Caroline doesn't think she's cut out for kickboxing and Lauren says she can see Greg's junk in his trunk. All kidding aside Lauren gets upset with her mom and brothers for not keeping her focused and frustrated they keep joking around when she's trying to change.
 Back at the restaurant, Ashley tells her parents that she wants to move to California, get her own place and go to beauty school.  Jacqueline says she doesn't want to burst Ashley's bubble but how is she going to afford a move to California alone by herself with no money, job or apartment and how is she going to do it without any help.  Ashley says she wants to go to California because she wants a fresh start where she can focus on herself.  Chris tells Ashley he wants her to work and save money so she can support herself before she moves across the country but all he sees her doing is partying and sleeping all day, not getting up and going to work. Matt agrees with Chris and tells Ashley in order to play hard she has to work hard.
Everyone is in agreement, that Ashley is selfish and ungrateful for all the help and privileges she's been giving and takes everything for granted. Ashley feels like everything she does isn't good enough, but Matt tries to convince Ashley that people do care about her and her family loves her. Matt tells her that she has to prove to the people who love her that she cares about them too not just herself.  Jacqueline tells Ashley she's feels like Ashley doesn't respect her.  Ashley says all her mom does is lecture her about what she should be doing and no matter what she does it's wrong.  She tells Jacqueline she should be given some credit unlike her, she didn't have a kid at twenty.  Jacqueline is flabbergasted and hurt. She tells Ashley having a kid made her more responsible and was more responsible at that age than Ashley is now. Jacqueline continues to yell at Ashley and tell her that she's lazy and has no responsibilities and does nothing to help out around the house. Ashley scoffs and laughs at Jacqueline and says that she's not the one that decided to have more kids so she shouldn't have to take care of them. Matt tells Ashley to stop being disrespectful but Jacqueline has had enough and storms out leaving the restaurant in tears.  The others remain and try to put Ashley in her place. Ashley tells them her mother always has an attitude with her and no patience and is too short-tempered where do you think she gets it from.  The scene then cuts Ashley talking to the camera telling them that she knows her mother made sacrifices for her but that's not her responsibility to live up to her mom's expectations because her mom chose to keep her not abort her or give her up for adoption so she has to deal with it.
Meanwhile, Chris finds Jacqueline sobbing hysterically outside and she tells Chris she's had enough she wants her out of her house and Chris agrees he's had enough too. Something is definitely going to be done but Chris tells Jacqueline to let Matt handle Ashley.
Next week the catfights are in full swing as the feud between Jacqueline and Ashley hits a breaking point and a new one is ignited between Teresa and Melissa at Kathy's tasting party. Come on we all new it was too good to be true, tune in next week to see who's left standing.