Fall TV Preview: NBC's 'The Michael J. Fox Show'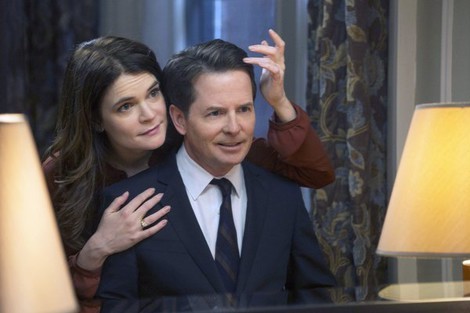 To watch or not to watch?  To suffer through a lackluster new show and risk missing a spectacular one?  It's the fall television roulette that can drive lesser TV fanatic insane.  Luckily, I am here to offer preview of the not-for-review pilots I managed snag this summer.  Consider me your DVR Whisperer, advising you on which shows should get your season pass and which you should just skip.  Here are my first impressions on NBC's "The Michael J. Fox Show," premiering Sept. 26 on NBC at 10/9c.
The Premise: Beloved and respected news anchor Mike Henry (Michael J. Fox) retired after his Parkinson's disease began to hinder his on-air performance.  Five years later, his family is anxious for Mike to return to work, causing his wife ("Breaking Bad's" Betsy Brandt) to sneakily nudge him back into the newsroom. 
Why You Should Watch: Having grown up with Fox's on "Family Ties" and the Back To The Future trilogy and loved his recent Emmy-nominated turns on "The Good Wife," I was thrilled that Fox was returning to television full-time.  But I had no idea what to expect for a show as autobiographical as "The Michael J. Fox Show."  Fox is not television sick.  There are no artfully lit shots of him in oversized sweaters filming goodbyes for his children or taking an ominous amount of pills while a maudlin McLachlan song plays.  Instead, Fox offers an unflinching, and yes, funny exploration of a family coping with their an patriarch. Initially, the humor feels wrong, especially during a cringe-worthy scene involved a wheeled desk chair, but if the Henry family and Fox himself can laugh at an otherwise debilitating disease, we can too.  
Why You Shouldn't Watch:  Watch it.  There isn't a reason not to.  I only have one major concern regarding "The Michael J. Fox Show": if it's only about Mike Henry's Parkinson's disease, then the "laugh-through-the-pain" sentiment will quickly grow stale and veer into self-exploitive.  Although if this is truly a family show, then it will explore the lives of his eccentric teenage daughter, his aimless college-aged son, and his supportive wife.  I also hope that Betsy Brandt will have more to do here than play a homogenized version of the the supportive wife on "Breaking Bad."  
Watch the trailer embedded below.  "The Michael J. Fox Show" debuts on Sept. 26 on NBC at 10/9c.