Fall TV Preview: NBC's 'The Blacklist'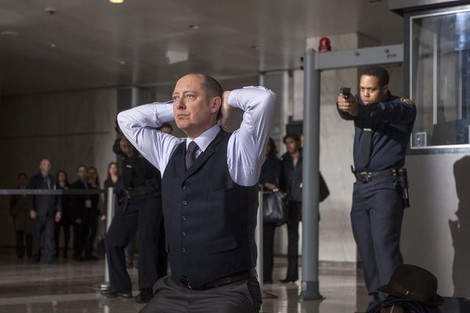 Every fall, dozens of new television shows waft on to the air hoping to survive the season.  I am here to offer preview of the not-for-review pilots I had to pleasure of previewing.  Consider me your DVR Whisperer, guiding you on which shows should get your season pass.  NBC's "The Blacklist" premieres tonight at 10/9c.  Here are my first impressions.  
The Premise: James Spader stars as uber-terrorist mastermind Raymond "Red" Reddington.  After decades of working as a "facilitator" for international terrorists, the FBI's most wanted peacefully surrenders with the sole purpose of sharing his sinister secrets with a rookie profiler Elizabeth Keen (Megan Boone), the object of his inexplicable obsession.
Why Should You Watch: NBC's struggles to find programming that connects with audiences has been fodder for late night talk show hosts since "Friends" went off to the great Central Perk in the sky.  Unlike previous failures like "Undercovers" or the woefully underappreciated "Prime Suspect," "The Blacklist" is compulsively watchable, and mostly done right.  The drama delves into an overarching mythology involving the "family first" profiler and the mysterious connection she may have to Reddington while nurturing the compelling cases of the week.
Spader pridefully flaunts his spectacular connections to the underworld with a delightful deviousness.  He's Hannibal Lecter gone vegan, and one mustache-twirl away from chewing on the scenery.  Boone leads the rat-tat-tat action with the required fierceness (she changes gun mags like a pro) and an edge of vulnerability.  She wants the family and the career.  Unfortunately she's a profiler, not a prophet, and has no idea what lies in store for her.  The viewers don't either, and therein lies the explosive fun.
Why You Shouldn't Watch: Megan Boone's horrendous wig that covers her more stylish shorter coif.  
Check out trailer below! Tune into NBC's "The Blacklist" tonight at 10/9c.