Fall TV Preview: NBC's 'Ironside'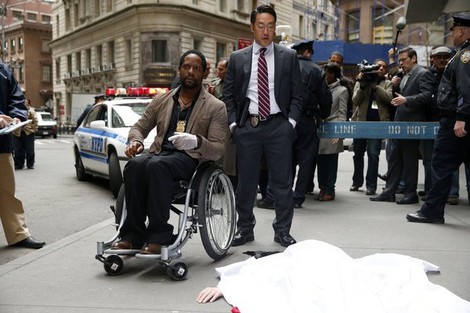 To watch or not to watch?  To suffer through a lackluster new show and risk missing a spectacular one?  It's the fall television roulet that can drive lesser TV fanatic insane.  Luckily, I am here to offer preview of the not-for-review pilots I managed snag this summer.  Consider me your DVR Whisperer, guiding you on which shows should get your season pass and which you should just skip.  Here are my thoughts on NBC's "Ironside" starring Blair Underwood. 
The Premise:  Robert Ironside (Blair Underwood) was one of NYPD's most promising detectives before a sting gone wrong left him paralyzed from the waist down.  A lawsuit against the city got him a hefty settlement and his own squad.  Life in the chair allows him to view crimes from a different angle.  
Why You Should Watch:  Blair Underwood, obviously.  The veteran television actor takes on Raymond Burr's iconic role in this remake of the 1960s television series.  His new iteration of Detective Ironside is that of a man on fire, and his raw performance often redeems the pilot from its greenness.  
The show itself feels like the law and order version of "House" with lukewarm snark.  However, it handles the lingering scars of Ironside's paralysis with a visceralness that can be tear-inducing.  It also borrows from "Hawaii Five-0's" playbook by giving Ironside a task force with more investigative freedom than most cops--an opening scene with Robert and a knife will show you exactly how he likes to get answers...and vent his anger.  "Ironside" does offer a fresh take on the case-of-the-week without trying too hard.  When coupled with the unanswered questions surrounding Robert's shooting, I'm confident that will not be another hardboiled procedural but a riveting hour of television.  
Why You Shouldn't Watch:  If "Ironside's" sole focus is the titular character's paralysis, then the handicapable fodder will run out around episode 3 (especially when he lives in an apartment building with no discernable ramps).  
Also, Pablo Schreiber AKA the portrayer of the sadist that tortured Detective Benson in "Law & Order: Special Victim's Unit's" premiere plays a detective in Ironside's squad, and yes, he's still creepy.  
Check out the trailer for NBC's "Ironside" below.  It premieres on NBC tonight at 10/9c.