Fall TV Preview: 'Fringe' & 'Dollhouse'

Two of the most hyped up new shows on the FOX network were previewed on Saturday, July 26, the third day of the San Diego Comic Con, and there was a slow flagging sense of energy by the time "
Fringe
" began its panel. It was one of the later panels of the day, preempted by the overwhelming enthusiasm for "
Dollhouse
," "
Chuck
," and "
Battlestar Galactica
."
It could have been exhaustion setting in which made the audience thinner for "Fringe," or the lukewarm reports coming from early viewing of the pilot. In attendance was
J.J. Abrams
, Anna Torv,
Joshua Jackson
,
John Noble
, Bryan Burke, Jeff Pinkner, and Robert Orci. Torv, Jackson and Noble will be starring as the main characters. Noble plays the mad scientist Walter Bishop, Jackson his pessimistic son Peter, and Torv as Olivia Dunham, a skeptical FBI Agent drawn into the paranormal science of the "Fringe" world.
Let's just get this out of the way: Its premise and style is a great deal like "
X-Files
." This is intentional, as J.J. Abrams has openly admitted he drew from it and the "
Twilight Zone
." There will be stand alone episodes, or 'monsters of the week' so to speak, but have an overarching mythology that is typical of "X-Files" or most of Abrams other work, like "
Alias
" and "
Lost
." He seems to want viewers to join the show whenever they want to and be able to follow it, unlike his previous shows which are more convoluted. "Fringe" is about a rapidly spreading disease/paranormal occurrence which is threatening the world. Agent Dunham investigates the events and goes to slightly crazy Dr. Bishop for answers, but only his son Peter can help communicate the truth.
The panel started out with a trailer for the series, and then the panelists came in. Jackson was quickly encouraged to talk about his return to television, and he said he was reluctant but enjoyed the premise of "Fringe." The pilot was not intentionally released, said Abrams, and there probably will be a "Fringe" comic book.
To be honest, there was not a great deal revealed in the panel other than Abrams discussing how he wanted to let the show run its course and this may not be as deliberately planned every step as others. In stand alone shows, there is a certain freedom to what each episode introduces, and due to the popularity of shows like "
Heroes
," "Lost," and "X-Files" it is no surprise that more Sci-Fi plots are coming into play. Whether this one will make its mark or fade into obscurity is something that will be answered in the Fall.
In the slightly more awake 1 p.m. Comic Con slot was "Dollhouse," the new
Joss Whedon
show on FOX. The entire Ballroom was full with Whedon fans and people waiting for "Battlestar Galactica," or fans simply there to enjoy both. Joss Whedon,
Eliza Dushku
, and Tahmoh Penikett were all there, the latter two being the stars of the show. A preview was shown in which the audience was introduced to Echo (Dushku) and the Dollhouse. She is a human 'doll' that is sold to clients for certain desires - assassination, attention, sex, etc. - and after every mission her mind is wiped along with others of her kind. Penikett will play Paul Smith, an FBI Agent trying to get to the bottom of the Dollhouse. Dushku is very excited about this show because every episode she will get to play Echo as someone else.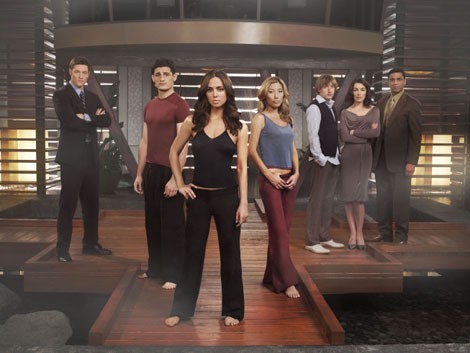 Whedon rehashed the story about how "Dollhouse" was created when he and Dushku went to lunch together. They came up with the idea and pitched it a few months later. A fan asked Whedon if he knew there were already websites up to save "Dollhouse," a common joke since his cult hit show "
Firefly
" was canceled after one season. Dushku also made a side joke that
Nathan Fillion
of "Firefly" fame should join the cast and mentioned a Nathan/Tahmoh sandwich. The fans seemed to agree loudly with her.
Amy Acker
from "
Angel
" will be on the show, and a very important thing for fans to know is that Whedon himself requested the pilot to be re-shot. There were concerns that Fox was forcing him, like they had for "Firefly," but Whedon assured everyone that it was his idea. He felt like a prequel would help establish the world before diving right into the show.
Right now there are 13 episodes for "Dollhouse," and Whedon intends to use webisodes as well. The show looks very promising from the preview and it is possible that the cultish Whedon fanbase will grow to a larger mainstream audience which will keep Echo and her fellow dolls on the air longer than a season.
Story by
Chelsea 'Dee' Doyle
Starpulse contributing writer