Fall Review: 'Unforgettable'
Watching CBS' new series Unforgettable gave me a hint of deja vu.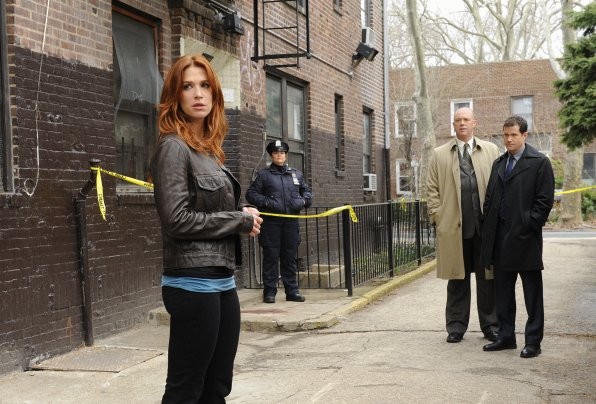 The procedural reunites former Without A Trace star Poppy Montgomery with that show's network and its executive producer, Ed Redlich. Montgomery, who's become a redhead but still looks better than most of us, stars as former Syracuse cop Carrie Wells. Carrie has the gift (or the curse) of remembering almost everything - except for the murder of her sister.
It sounds familiar, doesn't it? A main character with a tragic past, not to mention that she used to be sleeping with her new partner - former Nip/Tuck lead Dylan Walsh as NYPD detective Al Burns. (It doesn't take a genius to figure out they'll be back in bed eventually, as we're already getting flashbacks to their relationship and promos with a scantily clad Carrie.) Then there's the supporting cast including a few common molds, namely the woman (as played by Daya Vaidya) and the fresh-faced rookie (Kevin Rankin). You'd be forgiven for thinking you'd seen this all before, especially on CBS, the network known for its procedurals.
Yet I find myself intrigued by Unforgettable even if it's reconstructing the wheel.
For starters, Montgomery is an interesting lead actress, who held her own with the underrated Anthony LaPaglia for seven seasons on Trace, even if her character wasn't always well written. The fact that she's working with former collaborators is a plus here; the pilot's teleplay is co-written by Redlich, and you can tell that he knows how to write for her and she knows how to deliver his lines. (He wrote one of Trace's great episodes, "Are You Now or Have You Ever Been.")
While Montgomery and Walsh don't quite click, they work. I'll be interested to see if legitimate chemistry develops, but I'm satisfied for now, given that the majority of the time, that's the sort of thing that isn't instant, and has to be allowed to grow.
The show also boasts two executive producers from FX's superb Justified, Sarah Timberman and Carl Beverly. My love for Justified knows nearly no bounds, so I'm hoping the pair of them bring some of that show's smarts to this one.
Unforgettable's attempt to distinguish it from the procedural pack (are they really twists on the formula anymore if every show wants to have one, I wonder) is actually a legitimately unique one. I had no idea that hyperthymesia was a condition until this pilot. (Actress Marilu Henner of Taxi and Evening Shade is one of only six people to have the condition and consults on the series, also appearing as Carrie's aunt.) Maybe it's because I have an eidetic memory myself, but I am honestly intrigued by the topic. I know what it's like to have excellent recollection, and I've had that work both for and against me in my own life, so I identify with Carrie, at least on that level.
Still, there are flaws. The supporting cast here is hit and miss. I like Michael Gaston, who will always be the Speaker of the House from Showtime's Brotherhood to me, but Rankin comes off like he's playing Matt Lauria in The Chicago Code, only not as well, and there's not enough of Vaidya's character for me to even register an opinion about her.
And despite the unique element, this is still a procedural, painting fairly by the numbers. I don't see it as a show that will really surprise viewers plotwise. Having said that, CBS has only to look in its own wheelhouse for encouragement: the success of Hawaii Five-O on Monday nights proves that with a good cast you can make a well-written and successful procedural. There's no reason Unforgettable can't follow suit if its cast gels together.
There's just enough here to make me take a second look. Here's to hoping that Unforgettable will be worth remembering. At least, sometimes familiar isn't always a bad thing.