Fall Review: 'Law & Order: Special Victims Unit'
NBC's Law & Order: Special Victims Unit had a buzzworthy offseason, and tonight we got our first look at what one could term the 'new' SVU. Somewhat.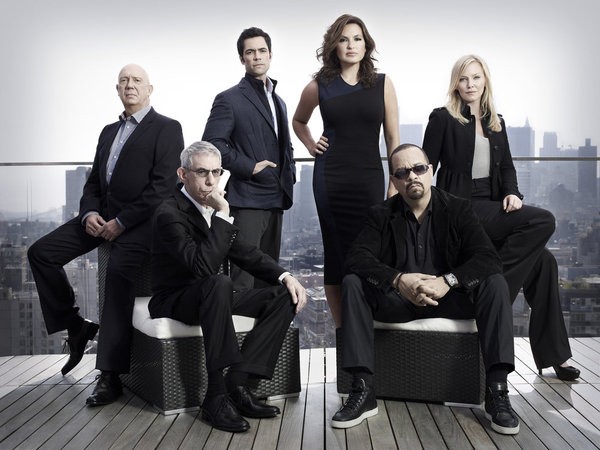 Headlines were made when star Christopher Meloni departed the long-running crime drama (although one could argue that it wasn't too shocking, as his dozen years of service were much longer than some entire shows go). It was later announced that his costar Mariska Hargitay was scaling back her commitment, and B.D. Wong left for a role on the new NBC series Awake.
With the moves, the rumblings began - with the axing of the mothership, failure of Los Angeles, and the recent conclusion of Criminal Intent, might we finally be seeing the end of the American Law & Order franchise?
That's still to be decided. What we have here is SVU's version of season nine of The X-Files: a veteran show bringing in fresh blood in the hope of the concept surviving the losses. SVU plucked Kelli Giddish from the wreckage of last season's flop Chase, and scored Danny Pino, previously the male lead of the underrated Cold Case, as the new detectives.
Perhaps to ease the transition, the show's bringing back familiar faces to make up the 'Order' aspect, in Stephanie March's Alex Cabot, Diane Neal's Casey Novak, and Linus Roache's Michael Cutter. (Read my interview with Roache on his Law & Order return.)
"Scorched Earth" is the first episode of this new, post-Meloni era. After a dozen years of the same, I expected that it would - maybe even should - feel drastically different. Surprisingly, it doesn't, perhaps because it doesn't really make clear where this new iteration is going.
For starters, we only meet half of the new team. Pino is entirely absent from the episode, which I found unfortunate as his addition was the one that most intrigued me, since I'd watched him capably co-anchor Cold Case with Kathryn Morris for seven seasons. We'll have to wait and see who Detective Nick Amaro is next week.
"Scorched Earth" only introduces Giddish as Detective Amanda Rollins, and the early look at her character isn't encouraging. After having been asked to accept her as the boss of a team of elite U.S. Marshals in Chase, it felt awkward to see her playing the wide-eyed "I'm so happy to be here" type that you'd expect of a rookie to the entire force, not a transfer coming into a new department. That schtick has the potential to get old very quickly, so I hope we get a better idea of who Rollins is beyond that, before she starts to grate on the nerves.
The episode is inspired by and references the sexual assault allegations against Dominique Strauss-Kahn, and it takes a fair amount of twists and turns, but nothing that would make your jaw hang open. This is Law & Order, which isn't really known for blindsiding viewers. The best part of the plot is that it makes good use of Ron Rifkin (Alias) as the predictably smarmy defense attorney.
I'm not as big a fan of the Alex Cabot character as I know others are, but this is March's third reappearance since leaving SVU in 2003, and it's obvious that she could play Cabot in her sleep, as there's an ease about her performance. The show's gone through quite a few ADA's since her departure, so I think it can only be a good thing to have her back and have some continuity in that position.
I can say the same thing for Hargitay, who in Meloni's absence gets the majority of the episode; she's reliable and appropriately crushed - without verging into melodrama - when Benson gets the news that Stabler has elected not to return to SVU. (And on that note, how about a little love for Dann Florek, who's been playing Captain Cragen for what feels like forever - after being let go from the original series, no less?)
I was hugely excited to see Roache return as Michael Cutter, whom I consider my favorite lawyer in the whole Law & Order franchise - but I found myself disappointed. His role felt as if it were written for a generic supervisor and then Cutter was inserted into that position. He didn't have quite the same energy, and it had nothing to do with his promotion; it just didn't feel like the Cutter I knew and loved, the one who seemed just a bit unpredictable all the time. As Roache is signed for more episodes, I'm hoping that later scripts will take better advantage of a talented actor and dynamic character.
"Scorched Earth" is frustratingly middling. It proves that SVU hasn't self-destructed without Meloni like some predicted it would. At the same time, it only introduces half the new cast and doesn't do anything else to set itself apart from the SVU that came before. It leaves me with the same feeling as that last season of The X-Files did: that there might not be an obvious downfall, but that perhaps the show has simply gone as far as it needs to.