Fake Promoter Cheats $60,000 Out Of Indonesian Motley Crue Fans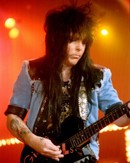 More than 1,500 Motley Crue fans in Indonesia have been left out of pocket after a fake concert promoter sold tickets for a rock show that never was.

The bogus businessman netted an estimated $60,000 in ticket sales for a make believe Motley Crue concert.

The October 8 show was billed as the band's first-ever show in Indonesia and when word spread to the nation's top newspapers, band members slammed the reports, with drummer Tommy Lee insisting the story was the work of a shady promoter.

Police have launched an investigation in a bid to find the fake promoter behind the bogus gig.