Fairy Tales We'd Like To See Remade By Tim Burton

Tim Burton and Johnny Depp's newest collaboration, Alice in Wonderland, hits theaters today. Tim usually scores big when he remakes anything, and it is rumored that he is working on revamping the Disney fairy tale Sleeping Beauty as a live-action picture, focusing on the film's villain, Maleficent.
Best known as the director of Beetlejuice, Edward Scissorhands, The Nightmare Before Christmas, Charlie and the Chocolate Factory and Sweeney Todd, Tim usually creates dark and quirky-themed movies and loves using Johnny Depp in his films. We picked a few more fairy tales we'd like to see remade by Tim Burton:

The Little Mermaid – The Little Mermaid is a classic Hans Christian Anderson fairy tale about a young mermaid who falls in love with a human and makes a deal with an evil witch to give up her life in the sea and become a human herself. We'd like to see Tim transform Johnny Depp as Sebastian the crab (one of the main characters in the Disney version) and cast Meryl Streep as the sea witch.
Beauty and the Beast – Beauty and the Beast was first published by Madame Gabrielle-Suzanne Barbot but was famously recreated by Disney in 1991. The fairy tale is about a beautiful girl who falls in love with a beast only to find out he's really a prince under a spell.
Rapunzel – Rapunzel is one of the best known fairy tales, written by the Brothers Grimm. The story is about a young maiden, stuck in a tower who lets down her long, golden hair to her love so he can climb up to be with her.
Hansel and Gretel – This tale by the Brothers Grimm follows a young boy and his sister who get lost in the forest and find a house made of candy, only to discover the owner is a witch who eats children. Judging by the creative candy images in Charlie and the Chocolate Factory, Tim could turn the witch's whimsical house into a masterpiece.   
Rumpelstilskin – This familiar fairy tale by the Brothers Grimm is about a commoner who lies to a king, telling him that his daughter can spin straw into gold so he shuts her up in the tower for three days. A little man appears and she has to guess his name or her first born child will become his.  We're sure Johnny could get right into character as Rumpelstilskin.
Jack and the Beanstalk – A young man finds a beanstalk and climbs to the top discovering a world up in the clouds and a giant who isn't happy when Jack steals things from his house. Most remembered when Disney turned Jack into Mickey Mouse; Tim could turn this into a live-action masterpiece.
Snow White – In 1937, Disney made the classic film, Snow White and the Seven Dwarfs, which was adapted from the Brothers Grimm fairy tale. Snow White is a beautiful maiden who lives in a house with seven dwarfs, all different in characteristics. One afternoon, she stumbles upon a witch who feeds her a poison apple and "kills" her until she is awakened by her true love's kiss.
The Wizard of Oz – Although the 1939 classic film by Metro-Goldwyn-Mayer doesn't need revamping, Dorothy, Toto, the Scarecrow, the Cowardly Lion and the Tin Man would be amazing characters for Tim Burton to recreate. We're picturing a version where the Wizard of Oz is the main character in the film and played by none other than Johnny Depp.
See more photos from Alice in Wonderland here!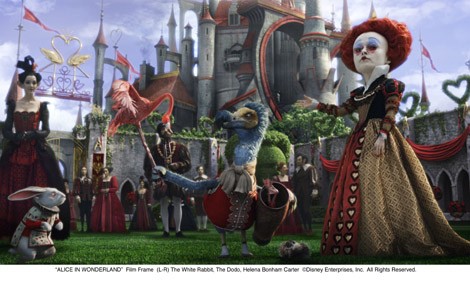 Story by Erin Demchak

Starpulse contributing writer