'Fairly Legal' Star Sarah Shahi Tops Maxim's 'TVs Hottest Girls' List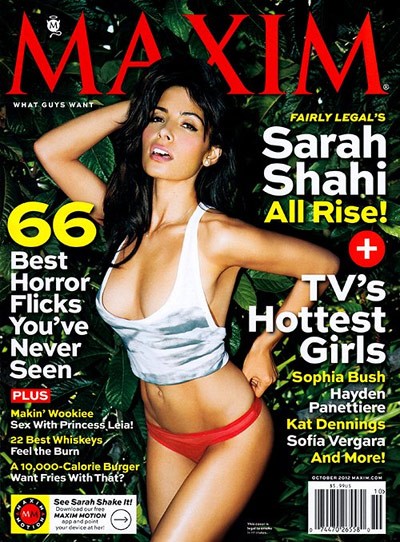 Former Dallas Cowboys cheerleader turned actress Sarah Shahi sizzles in her spread for Maxim magazine's October "TV's Hottest Girls" issue.

The gorgeous 32-year-old was named TV's Sexiest Star for her role on the USA Newtork's drama Fairly Legal.

The versatile actress got her start in Old School in a scene where she had to do a certain something with a cucumber. She also got to see Will Ferrell naked.

" Oh, I got to see Will in all his naked, hairy glory," she says. "Todd Phillips, the director, told us that Will was really nervous, so we shouldn't look at him. But my eyes were drawn to him like a moth to flame. I couldn't not look. His butt was like a flower. A really hairy flower."

Sarah also (quite famously) starred as a DJ on Showtime's lesbian drama The L Word and had a bit part on The Sopranos.

"That was a big deal for me, considering the number of people who watched that show and the role I had. To be able to manipulate Tony Soprano like that was pretty awesome. I mean, James Gandolfini and I went toe-to-toe," she says.

Check out Sarah's full interview in the October Maxim, on newsstands now; and read a little more on Maxim.com.