'Fairly Legal' 1.05 'The Two Richards' Review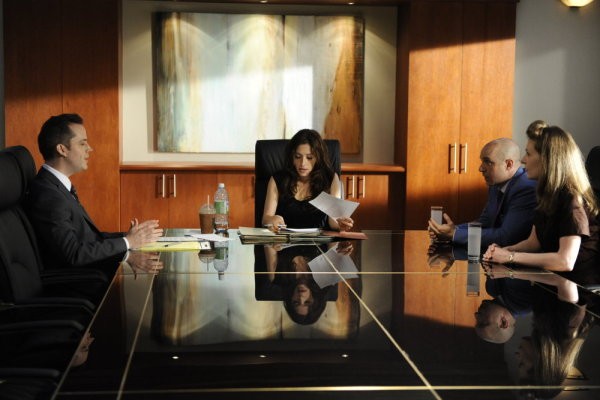 If you ever want to know what it's like to be hit by a truck, this episode of Fairly Legal will elucidate that for you.
Richard Neumeyer (Brian Markinson, who will always be "the other guy from Touching Evil" to me) was smacked by one while out with his wife Marsha, and now Kate has to mediate a settlement between theNeumeyers and the insurance company, within one day. She soon discovers that while Richard may be physically fine, he's not the same man he once was. The plot echoes the same issue raised in episode two, "Priceless": how does one put a monetary cost on things which are intangible? It reminds me very much of Richard Hammond's Vampire dragster crash and his well-documented recovery. There's a poignant story here about how Richard has changed since his accident, yet it leaves a bad taste in my mouth at the same time. His wife is understandably upset, but she's so upset that she and Kate end up pushing her husband away, which makes me dislike her a bit. At least she comes around in the end, complete with romantic needle drop. It's a better story than the last few, although not without its flaws. The real winner here is Markinson, who yet again gives a great performance as a man who's just grateful to be alive and now has no idea where he fits in. I loved his work on Touching Evil and I love him here.
Justin and Kate are back in bed together, and she's told him about the mysterious beneficiary of her father's will. He's being a supportive ex-husband, so she agrees to help him with the problem of his nudity-inclined neighbor (whether he wants her to or not). Once again, Michael Trucco gets to function as Fairly Legal's comic relief, and this week he adds "eye candy" to his job description. I am of two minds about this. Trucco plays comedy very well, with a deadpan humor that I find endearing, and I've already admitted that I'd go out with Justin. Yet since Trucco is so good with what he's given, I can't help but wish that he'd get something more substantive to do, because we've seen (in "Priceless" and "Bo Me Once") that he's capable of so much more.
In other news, Lauren meets an old acquaintance, Jennifer (In The Heat of the Night's Anne-Marie Johnson, looking fabulous for fifty), who wants her to let other people buy out the firm. It's the third time in five episodes that Lauren's competency has been called into question, and just because it's by a woman this time doesn't make it any less repetitive. The point has been made, so I'd love to see Lauren move on to other things. At least she goes with Kate to meet said mysterious beneficiary, ex-con David Smith (Richard Dean Anderson). I've said it before and I'll say it again, Fairly Legal is not the show for a mythology subplot; casting Anderson makes it more watchable, but it's still an unnecessary element that sticks out amongst the rest of the show's high-spirited hijinks.
I'd call this episode my second-favorite of Fairly Legal thus far; again, it shows glimmers of potential and a few great moments that make it worth watching. However, it's also starting to repeat itself in certain aspects, which is never a good sign. Halfway through the season, I'm getting the feeling that Fairly Legal is full of great ideas, but is still struggling with executing them, trying to find what it wants to be.
For more Fairly Legal, check out the show category at my blog, DigitalAirwaves.net.