'Fairly Legal' 1.03 'Benched' Review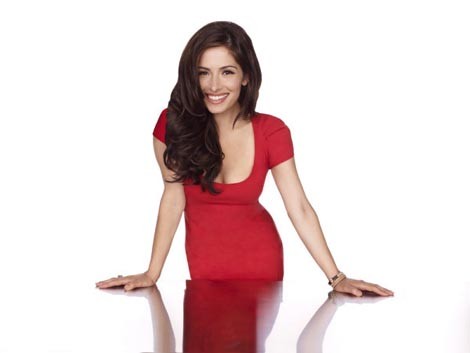 After last week's pretty good episode, I had high hopes for this week's Fairly Legal, which sees Kate trying to settle things between a difficult high school football coach (Dean Norris) and angry parents who dislike his controversial treatment of their children. This plot makes me think of deposed Texas Tech football coach Mike Leach, but we don't have time to completely mirror Leach's complicated story (thankfully). Instead, we're left with a fairly light portrayal of a question that comes up a lot if you follow high school or college football: is the coach too tough, or are the kids too pampered?
Fairly Legal is not Outside The Lines, so unfortunately, this is not the show that will dig into the serious issues that are raised by this plot. It's too light in tone. What the show does do is establish a grey area in the middle of the situation, where everyone bears some amount of guilt. For example, when one of his players collapses, the coach is at the kid's bedside, as opposed to his father, who seems more concerned about finding someone to blame. While this works much better for dramatic purposes, it also means the characters fall into some usual stereotypes - the arrogant, nearly self-absorbed parent, the kid that's hiding a secret. The revelation that the kid is on steroids and getting them from his father feels more like a necessary conclusion than a natural one. The story becomes about another dysfunctional parent rather than exploring that grey are as much as it could. Maybe it's because I've lived and worked in the sports world for years, but the whole episode leaves me wanting something more.
Meanwhile, Lauren does a favor for Kate's neighbor, simply because she thinks he may be related to a rich family that could help the firm at a later date - and gets more than she bargained for when he finds her charming. I'm curious to see if this is a subplot that's going to be continued; in this particular episode, it seems to exist simply for Kate to point out that Lauren can't be nice without getting something in return. That goes contrary to the show's attempts to keep Lauren from becoming a true "wicked witch" in the previous two episodes, so I have to think there's something more here.
In the episode's more comedic subplot, Justin enlists Leonardo's help regarding Kate's upcoming birthday. I know that I've said this the previous two episodes, but Michael Trucco does wonders for this show whenever he shows up on screen, with his combination of charm and bluntness (for good or evil). I think I like his character so much because he provides a counterweight to the series' lighter elements. Not to mention that I understand Justin this week, as a woman with mostly male friends, several of whom have called me telling me they have no idea what to buy me for whatever holiday we're talking about. Unfortunately, there's not as much of him this week, but that doesn't stop him from being effective. The same goes for Baron Vaughn.
I'm still sitting on the fence with Fairly Legal. Last week's episode was great, but this episode lacked the depth and emotional pull that made that one so good. So far, this show has been uneven. I'd say that it needs time to even itself out, but as there are only ten episodes in the first season, that means we're a third of the way done already. I don't know if the show has that kind of time. This is an entertaining show, at least, but it's episodes like this that make me wish it could be something I actually have to see, rather than something I flip on before Wipeout.
For more Fairly Legal, check out the show category at my blog, DigitalAirwaves.net.