'Fairly Legal' 1.01 'Pilot' Review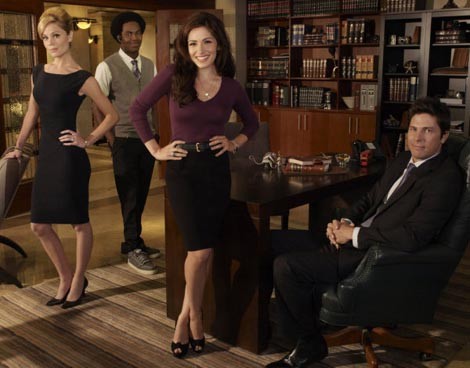 I want to like Fairly Legal more than I do.
There's a lot to love about USA Network's newest original series, beginning with Sarah Shahi, who proves that her outstanding performance as the cynical recovering alcoholic Dani Reese on NBC's late-but-still missed Life wasn't a fluke. As lawyer turned mediator Kate Reed, Shahi has plenty of charm, a winning smile and an earnestness that's infectious. Kate is almost the complete opposite of Reese - except for maybe the father issues - and Shahi plays both roles equally well, proving that it's about time someone gave her a series of her own.
There's also a good supporting cast here. Chief among them is Michael Trucco (Battlestar Galactica) as Kate's ex-husband, ADA Justin Patrick, who keeps falling into bed with her as he's clearly still smitten with her. It's easy to see how Justin and Kate ended up together; they're both stubborn, confident on the job, but clueless outside of it. Trucco is charming but much more than that as well, and has a solid chemistry with Shahi. It'll be interesting to see how their relationship develops or derails over the course of the season, but I already feel like I wouldn't mind if they reconciled. Virginia Williams plays Kate's stepmother, Lauren, who's young enough to be Kate's sister and surprisingly vulnerable; she may be referred to as the "Wicked Witch," but she doesn't fall into that stereotype. I'm particularly happy to see Ethan Embry as Kate's brother Spencer; I was a fan of his work as Det. Frank Smith on the remake of Dragnet, and he's always welcome on my TV. All in all, while I might not call them great, I'm at least interested to see how these actors develop these new characters.
Unfortunately, I don't know if the writing is going to unlock the potential of these characters; right now, Fairly Legal still feels to me like an updated Ally McBeal, minus the dancing baby and the musical numbers. Kate spends a good portion of the pilot running around from one issue to another, either cutely bantering or neurotically panicking along the way. She and her compatriots talk far faster than any human being normally would. Not to mention, she does it all while looking beautiful and in two-inch heels. Were it me, my hair would be screwed up and I'd have blisters from all that hurrying about. She's also got the typical cool assistant (Baron Vaughn, who has potential) and the crusty old judge that hates her (Gerald McRaney). Not to mention those daddy issues. The pilot seems to be hinting at an ongoing subplot regarding Kate's father's passing, or at least her relationship with him. It seems like an attempt to create a mythology in the vein of other USA Network series, and such a thing just doesn't fit in this one.
Maybe I'm spoiled because of how much I love Burn Notice and White Collar, but Fairly Legal is not on the level of those two series. There's just not the same pop here, on a few levels. With the previous two shows, not only did I love the lead actor, but I was engaged with the supporting ones as well; I like this supporting cast, but they haven't flat out hooked me yet. While they made me feel as if they had to take place in Miami and New York respectively, Fairly Legal seems as if it could be anywhere. Most importantly, the writing just isn't there yet. The plots and guest characters seem quirky for the sake of being quirky, and lack the real emotional heft that got me interested in the stories of Michael Westen and Neal Caffrey. It's sort of like dessert as opposed to the main course; it's much lighter on the palate, there's not as much there, and it doesn't quite stick in the memory.
It's entirely possible that with a few more episodes, Fairly Legal will establish itself better and the writers will find its unique voice. It certainly has the potential to be another USA Network hit, especially when future episodes boast guest stars like Richard Dean Anderson and Chris Vance. Yet I wanted to love it, and instead I came away feeling as if I liked it...but I wasn't in love.