'Fairly Legal' 1.01 'Pilot' Advance Review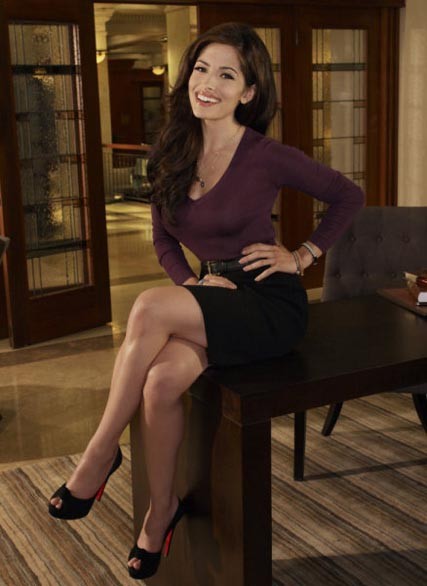 All of USA Network's series share one quality: distinctive lead characters who become media personalities in their own right. For example, there's no doubt that while White Collar is a great ensemble piece, it's Matt Bomer's Neal Caffrey who gets most of the attention and promotional exposure. So it is that the network's newest series, Fairly Legal, is resting on the shoulders of Sarah Shahi. If you're one of those people still annoyed at NBC for cancelling Life, you know that she's more than deserving of her own series. She is a very talented actress, and though she doesn't get to show that as much given that Fairly Legal isn't as complex or as gritty as Life, there's no doubt she belongs as a series lead. The show that surrounds her, though, is equal parts hit and miss.
Lawyer turned mediator Kate Reed (Shahi) has the kind of chaotic personal life that Ally McBeal would understand. Her well-respected father has recently passed, leaving Kate with his tiny houseboat - and an acrimonious relationship with her stepmother Lauren (Virginia Williams), who's closer in age to being Kate's sister. Meanwhile, she's divorced from smooth-talking Assistant District Attorney Justin Patrick (Michael Trucco), but that doesn't stop her from sleeping with him, or him from pining after her. The only people in her life who seem to have it together are her brother (Ethan Embry) and her trusted assistant Leonardo (Baron Vaughn). On paper, I'd start rolling my eyes; is there any successful professional, especially a female one, on television who doesn't have a messy personal life?
However, I'm willing to give the show a pass because there's some developing chemistry amongst the cast. Lauren is talked about as if she's the prototypical evil stepmother, but Williams doesn't play that character, instead giving her moments of surprising vulnerability. The one relationship that's got me curious is the one between Justin and Kate - while you can start to see in the pilot why their marriage derailed, they obviously still have torches for each other and it would be interesting to see them try and reconnect - as long as it's honestly reconnect and not just continually sleeping together with no character development. For his part, Trucco plays the guy who can't keep from saying the wrong thing so well; he's stubborn, but not unlikeable, and he's obviously got his heart in the right place even if his mouth isn't. He and Shahi have an interesting rapport that I hope is explored.
That said, once you strip away the character drama, Fairly Legal is, well...a fairly interesting but not really unique legal series. (It's not even the only series this season in the same vein; NBC's Harry's Law, with Kathy Bates, also deals considerably though not exclusively with mediation.) It's already seen its first-season order cut from twelve episodes to ten. The pilot's a toss-up between fresh details and things we've seen before, with not necessarily more of one than the other. There's a father locked in a disagreement with his irresponsible son; who's at fault won't surprise you but it will reveal a surprising secret about one of them. There's the cranky old judge who dislikes Kate, which isn't exactly novel either. Then there's the hint of an ongoing subplot about Kate's late father (or at least her relationship with him) - a potential mythology for a show that doesn't need one. Yet there's also a neat opening sequence where Kate ends up in the middle of a robbery and talks everyone's way out of it. If only the entire show were as witty and honest. Still, it is just the pilot; there aren't many pilots in the history of television that aren't struggling to define themselves.
Fairly Legal has a lot of potential, namely that it has a charismatic cast whose chemistry sometimes becomes more interesting than whatever it is they're talking about. There's enough good in the acting that I'm willing to wait and see if the writing improves. Not only does the show have a decent main cast, but there are guest appearances from people like Ken Howard (Crossing Jordan), Gerald McRaney, Richard Dean Anderson, Anne-Marie Johnson (In The Heat of the Night, JAG), Paul Schulze (24), and Chris Vance (Burn Notice). I simply hope that the show holds up to the high standard of quality that we've come to expect from the USA Network brand, and not another forgettable show about a neurotic, single female professional.
I only have one honestly burning question: wouldn't it be amazing if the producers could book Damian Lewis for a guest appearance?
Fairly Legal premieres next Thursday on USA, in Burn Notice's former time slot of 10 PM ET/PT.