'Face Off': Season 4 Premiere - Make It Reign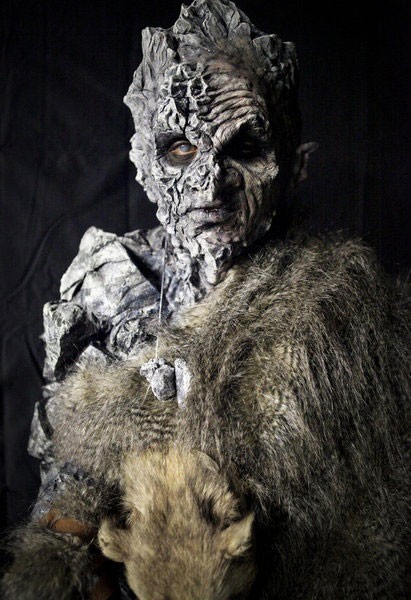 Season four of "Face Off" began in royal fashion when the 14 special effects makeup artists – Alex, Troy, Kris, Katie, Eric F., Meagan, Anthony, David "House", Alam, Eric Z., Jenna, Wayne, Michael, and Autumn - met aboard the Queen Mary to learn their first challenge of the season – to create a queen to match the chosen crown and shows off who the artist is.  Oscar and nine time Emmy Award winning makeup artist and creature designer Michael Westmore judged the challenge.  Westmore joined the cast this season as a mentor to the artists giving them tips and suggestions of how best to bring their designs to life.
Saying that his creation was the only one that could be put on film and pull it off after the two hour challenge, Michael Westmore named Anthony as the winner.  Anthony won immunity from elimination of the Spotlight challenge.
The spotlight challenge for the week continued on the royal theme with the artists being put into pairs to create a mythical goblin king based on a geographical theme from a map…
Jenna and Eric – desert
Michael and Troy – volcanic
Alex and Wayne – swamp
Alam and Kris – forest
Anthony and Meagan – mountain
Katie and House – arctic
Eric Z. and Autumn - jungle
The artists had three days to design, create, build, and apply their creations.  On day two McKenzie and Michael Westmore made a visit to the lab.  While Michael thought that overall the artists did a great job he admitted that the gator was his favorite; but he was concerned about the arctic and wood characters.
Glenn Hetrick, Ve Neill, and Neville Page return as judges for the season; joining them this week as a guest judge was long time actor John Rhys-Davies.
After the reveal and closer looks McKenzie announced that Alam, Katie, House, and Kris were safe.
Anthony and Meagan, Eric F. and Jenna, and Eric Z. and Autumn had the best looks; but Michael and Troy and Alex and Wayne were deemed to have the worst looks.
Glenn said that he was blown away by the exceeding work performed by the artists.  After the judges proclaimed that their makeup work was exceptional and looked like the real thing, Glenn announced the top team was Meagan and Anthony.  John, who said that he will never wear prosthetics again, said that he would wear that makeup.
Meagan and Anthony had the top look but there can be only one winner…
….sweeping the night was Anthony winning both challenges.
Of the bottom looks the eliminated artist was Troy.  In his exit remarks, Troy said that he had no regrets and had a lot to learn.
Pictured: model with makeup by David "House" and Katie