'Face Off' - Junkyard Cyborgs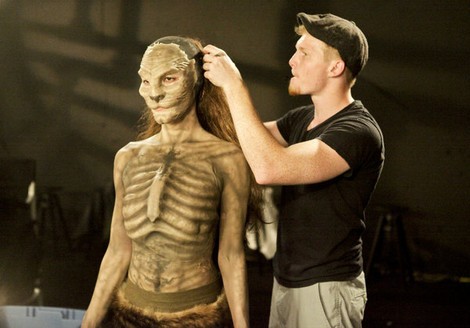 This week the five makeup artists gathered in a junkyard to learn their next challenge…to create a cyborg.  The catch was that they would have to use items they found in the junkyard.  They had 30 minutes to find the pieces they needed before returning to the lab to create their characters.
In the lab not all was going well for every artist.  Sarah could not find an appropriate concept, Laura was not happy with her concept, Derek's mold was cracking, and Roy was annoying everyone with all the noise he was making.
After host McKenzie Westmore and head judge Glenn Hetrick made a visit to the lab, Glenn was excited about some of what he saw with  some artists drawing inspiration from the items they found in the junkyard; but cautioned Sarah to find her foundation piece and remarked that Roy's character reminded him of a third grad robot project.
Once on the reveal stage Gale Anne Hurd joined the panel as a guest judge.  After close up looks, Gale said some of the character blew her away.
The judges wanted more from Laura.  While big and ambitious, the judges like Roy's character.  The judges felt Sarah didn't achieve the objective.  They were blown away with Nicole's character with Gale wanting to take her to Comic Con.  The judges called Derek's character stunning and the best use of his junkyard haul.  Gale said that she could see Derek's character in a movie right now.
After calling Derek and Nicole's characters the top looks; head judge Glenn Hetrick names Nicole the winner for the second week in a row.
Normally two or three of the artists are listed as being the bottom looks; but this week Glenn said there was only one bottom look – Sarah's, citing her inability to settle on a design and her lack of quality work.
There are only four artists remaining and two weeks left in the season before fans help to crown a winner.