Fabrizio Guido Talks About Being A Part Of 'World War Z'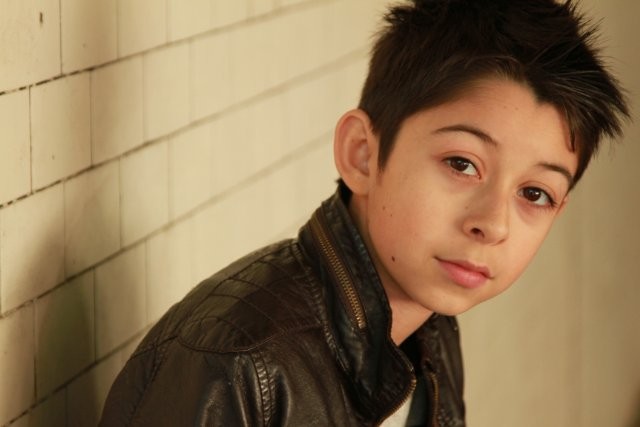 Zombies, Brad Pitt and huge action sequences: World War Z is poised to be a smash hit at the box office. Ahead of today's opening, BFTV spoke with young actor Fabrizio Guido, who plays a supporting role in this giant film, about the experience of a blockbuster and his ambitions to be an multi-hyphenate someday.
"Working on World War Z was always fun," Fabrizio told us. "My character in the film is named Tomas - he is a curious and very courageous boy who is rescued by Gerry Lane [played by Brad Pitt] and his family. Tomas grows very attached and protective of them, and turns into the son Gerry never had. I haven't seen the final cut, but I'm told that I have some very exciting scenes!"
Excitement is to be expected when on the set of a major summer movie, after all. What sequences were the most memorable for this 13-year-old actor? "One of the scenes that was really exciting for me was when we shot in a huge green screen stadium," he said. "I also liked all the action scenes when I was doing a lot of running, and I especially liked going on the helicopter."
"I feel excited and fortunate to have the opportunity to work on World War Z along with such talented people," Fabrizio continued. "I had a great time both on and off set. I loved working with everyone - [the] director, actors, assistant directors and production assistantss.  Marc [Forster] is a great director and works really well with kids; you can always understand what he wants from you.
"Brad is really nice, funny and is great with kids as well, not surprising since he does have six of them!  And Mireille [Enos, who plays Gerry's wife, Karen] is one the nicest people I know. She is such a talented actress and has the cutest baby.
"The film was shot in London, so travelling there was really exciting," said the up-and-coming talent, who bonded with his fellow young actors. "On set, Abby [Hargrove], Sterling [Jerins], Lucy, Ryan and I would hang out at each other's trailers when we were not filming.  On my days off, I would explore the museums and go shopping. I loved the whole process of working on the movie."
Being part of a potentially franchise film - rumors already abound that World War Z could be the first part of a trilogy - isn't quite as daunting for Fabrizio as it might be for other teenage actors. He's already dabbling in writing and producing. "Since I was very little I've enjoyed making films," he explained. "I made my first film when I was five years old, starring my hamster Hammy.  As I got older, I started to use my cousins in my projects.   Three years ago, I attended a teen producers class' where I learned how to shoot, edit and create my own storyboards.
"I really like the whole process of creating my own stuff.  I can write scripts of content that I see in my head and later shoot it and edit it and see my story visually and then share it with other people. I have some footage online of myself doing different characters when I was younger. I'm working on a short film that I wrote while I was in London shooting World War Z."
Back in front of the camera, he was also seen in the Italian film Miele, which was part of the prestigious Cannes Film Festival. But will his next experience be as awesome as surviving zombies?
You can keep up with Fabrizio on Twitter (@FabrizioGuido1). World War Z is in theaters now.
(c)2013 Brittany Frederick. Appears at Starpulse with permission. All rights reserved. No reproduction permitted. Visit my official website and follow me on Twitter at @tvbrittanyf.