Ezra Miller Arrested For Marijuana Possession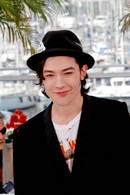 Child star Ezra Miller is facing legal trouble after he was busted for marijuana possession on Tuesday.

Miller, who is currently filming The Perks of Being a Wallflower opposite Harry Potter star Emma Watson, was driving through New Jersey with a pal when their vehicle was stopped by Peters Township police for a routine traffic violation.

Officers allege they saw "brown, vegetable material" in the star's lap and a search of his person turned up marijuana and rolling papers in Miller's jacket, according to local reports.

The actor has been booked on possession charges.