'Extra' Host Maria Menounos Joins The Pussycat Dolls Burlesque Show (Pics)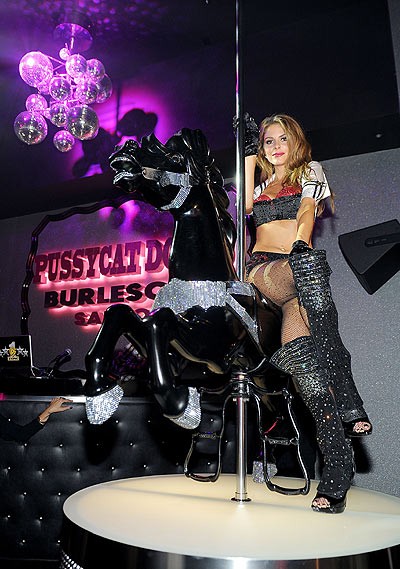 Breaking news on Saturday night in Las Vegas: Maria Menounos is a bonafide bombshell. The "EXTRA" anchor and television personality performed live at Pussycat Dolls Burlesque Saloon (www.PCDSaloon.com) inside Gallery Nightclub at Planet Hollywood Resort & Casino last night. The beautiful leading lady got the night started by taking the saloon's sprawling stage and yelled out to the venue's excited revelers, "Everyone ready to party tonight?" She had the crowd in the palm of her hand by shouting out and paying tribute to all of the veterans in the audience. She had clubgoers give a round of applause to the men and women who serve or have served our country. She even stopped to take a few photos with some military men in uniform.

Positively glowing from her incredible performance, the gorgeous Greek vixen thanked her family and friends for supporting her. She also gave a big thank you to close friend and PCD creator, Robin Antin, who invited her to live a dream and become a Doll for the night.

Menounos wasn't the only star in the building for her premier as a Doll, Vinny Guadagnino, Jersey Shore nice guy, stopped by to catch her performance and continued his birthday fist pumping celebration into Saturday night inside the exotic VIP area at Gallery Nightclub.

Pussycat Dolls Burlesque Saloon is open from 9 p.m. until 4 a.m. Tuesday, Wednesday, Thursday, Friday and Saturday.