Explicit Jane's Addiction Video To Debut On Playboy.Com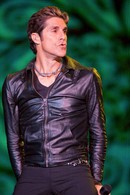 Rockers Jane's Addiction are premiering the explicit video for their new song "Underground" on adult website Playboy.com.

The less racy promo made its debut on Vevo.com on Wednesday, but the more controversial version will hit the Internet on Friday night.

The band joined forces with director Robert Hales to make the short film, which was shot in Los Angeles at the Fais Do-Do club and features Perry Farrell and his group performing for a cast of vaudevillian characters.

Farrell tells Spinner.com, "There are Siamese Gargoyles, seances, card games and a man in a white fedora who was also on the cover of In Through the Out Door (a Led Zeppelin album). People get made love to and murdered in the backrooms while the band plays on."
The non-explicit version: