Expect More Nina Sharp On 'Fringe' And Possible Romance With Agent Broyles

Fox's sci-fi show
Fringe
is full of surprises.
Leonard Nimoy
is the mad scientist William Bell. Olivia Dunham (
Anna Torv
) is traveling to an alternate dimension. Peter (
Joshua Jackson
) is really an imposter but he doesn't know it. Charlie (
Kirk Acevedo
) is an imposter and he DOES know it.
But the big shocker from this season's premier that nobody is talking about is the implied romance between FBI agent Broyles (
Lance Reddick
) and Massive Dynamic maven Nina Sharp (
Blair Brown
).
"The question for me is: is it completely in the past or is it something that's starting up again?" Reddick asked.
It looks pretty present to us. "We'll see," he said. "We'll either see more of it or we'll find out more about it definitely."
Brown has had fun speculating on the love triangles possible between all the alternate worlds of Fringe. "Someone asked me today, 'Is Jasika your love child?'" she said. "I don't know. We'll have to ask the writers. Possibly. It's a good theory. I know I'm somebody's mother but whose? We see that Nina and Broyles have a little history. We'll see if history repeats itself."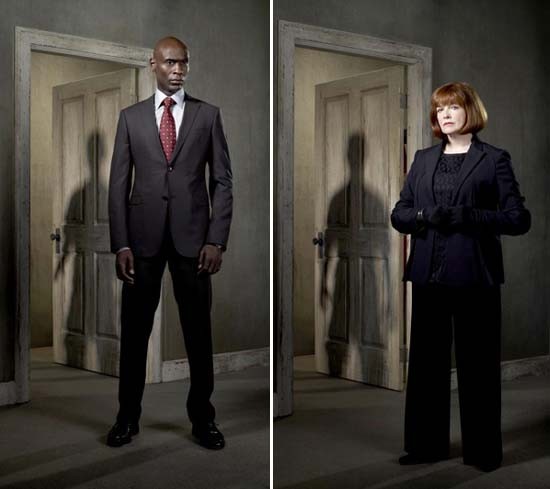 Lance Reddick and Blair Brown © Fox Broadcasting Co.
Maybe the FBI's been too busy following Dunham between worlds. Reddick and Brown have not shot any more romantic scenes, but they continue to work together. "Blair's character is one of those characters where for a show like this, she's going to become increasingly important as the show goes on," he said. "I shouldn't say increasingly important. I think you're going to see her on screen more and more."
Eight episodes into the season, Blair has been working regularly. "I think I've been in four or five," she said. "I think we're going to see some curious things. At the end of this episode we're shooting now, for a while it seemed like Nina was pretty normal and supportive and hopeful, not maybe as dark as last year. Then we just got a little thing in here that says like oh, that's not so. That's not so."
Fringe airs Thursday nights on Fox.
Story/Interview by
Fred Topel
Starpulse contributing writer
(Starpulse in Hollywood)
: Every week, Hollywood's biggest stars are meeting in the hot spots and Starpulse is there.