Expect Drastic Turns In 'Fringe' This Fall

You know
Fringe
is full of surprises and they're not going to spoil anything. But, the producers of the show promise some drastic turns in their first episode back for a second season. They do have a doozy of a finale to top, when Olivia found herself standing in the World Trade Center in a parallel universe.
Expect something major to happen to a character you love. "As much as we should be telling a show that's intriguing and that makes you think and that is about these mysteries, that first and foremost, it should make you feel something," said producer Jeff Pinkner. "There needs to be a balance of good and bad. If the choices we make create emotional responses, then I think we've done our job."
How about that? Even if it breaks your heart, at least you'll feel. "You don't know where it's going," said producer J.H. Wyman. "So you don't know yet. But hearts can be mended."
On a purely psychedelic level, expect to learn more from Olivia's mind trips in that sensory tank. What exactly can be learned or affected in the mind remains flexible. "One of the things we try to do with the show is we are all human," said Pinkner. "The truth is we all have a lot of experiences about our own bodies and about our own minds that we can never understand, and one of the themes of the show is the way that, in fact, we are meat and electricity."
Producer Roberto Orci added that the mental plane is subjective. "That was all about is it real, and how real is it?" Orci said. "Does it really follow the rules of its own in your mind or not? And that would probably be the third kind of a thing that would be explored by our show."
Playing Olivia, Anna Torv would embrace a darker exploration of the mental tank. "I wanted her to get really addicted to all of that kind of stuff, too, which would make her not a very good role model if she was in the lab, injecting herself," Torv joked.
Pinkner said that subplot would have to wait. "We've talked about the way that you can literally become addicted. We considered it a long story arc of Olivia becoming addicted to her past with her dead lover and that her experiences in the past were more, and ultimately, we decided that we wanted a character who was moving forward and not moving backwards. But that doesn't mean that it's not something fascinating and that we couldn't still do it."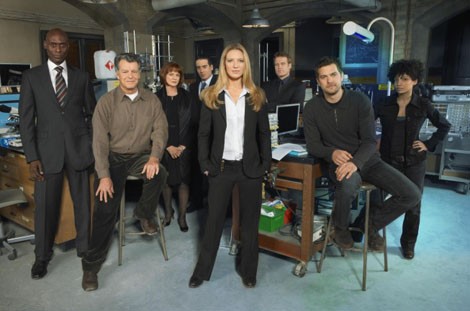 Image © Fox Broadcasting
Fringe returns this fall to Fox.
Story/Interview by
Fred Topel
Starpulse contributing writer
(Starpulse in Hollywood)
: Every week, Hollywood's biggest stars are meeting in the hot spots and Starpulse is there.