Exclusive: Tony Bennett's Rep Confirms He Did Not Walk In On A Naked Lady Gaga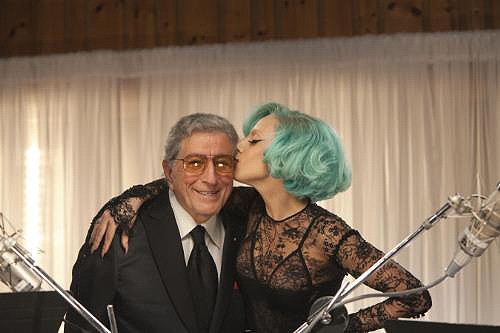 Rumors have been surfacing this week after Lady Gaga appeared on a London based talk show revealing details on her recent nude shoot with Vanity Fair magazine at Tony Bennett's studio. Gaga told host Jonathan Ross, "I was in Tony [Bennett's] studio and I walked in and she [Annie Leibovitz] was like: 'I want you to be naked,' so I took my robe off and lay down and poor Tony was standing there looking at me like: 'Oh this f---ing girl.'"
Various media outlets have been stating that Bennett 'accidentally walked in' on the pop-star fully nude during their music video shoot, but a representative from Tony Bennett's camp tells Starpulse exclusively that Bennett was actually invited to the shoot by Vanity Fair magazine, which did not occur during any of the duo's recording sessions.
"Vanity Fair invited Tony Bennett to participate in Annie Leibovitz's photo shoot with Lady Gaga.  Like a lot of Annie's photographs, this one holds some surprises, which will be revealed when the magazine is released. This was not an accidental meeting or related to the music video shoot for Tony Bennett and Lady Gaga's "Lady Is A Tramp," that was recently released," the rep tells us exclusively.
While things are constantly misconstrued in this business, Tony Bennett and his camp assured us that he continues to have the utmost respect for Lady Gaga and praises her for her talents.
"Lady Gaga has the mark of true genius in which she makes what is difficult appear effortless.   Fred Astaire, Cary Grant, Ella Fitzgerald - they all shared that quality and it's what I refer to as the 'IT FACTOR.' She walks into a room and immediately all eyes are on her. When she performs she makes instantaneous decisions on how to sing, how to move—and each moment is perfect.  There is an energy that she has and when you stand next to her and perform you can't help but marvel at it and know that it is a rare thing," Tony tells Starpulse exclusively.