Exclusive Q&A With 'Saw 3D' Star Gina Holden
Movie star Gina Holden recently starred in the hit film Saw 7: 3D, which earned her a 2010 Eyegore award from Universal Studios. Her past film credits include Aliens vs Predator: Requiem, Screamers and Final Destination 3.
In addition to her film roles, Gina also has a successful TV career, having guest starred in Life: Unexpected, Flashpoint, Smallville, Supernatural, Harper's Island, and the TV movie A Family Thanksgiving for the Hallmark channel.
Gina took time out of her busy schedule to give Starpulse an exclusive Q&A about her Saw experience, her favorite roles, and what it's like to be star-struck when you're a star!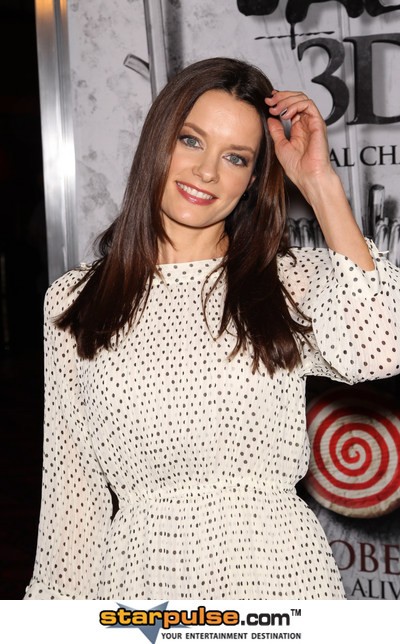 When did you know you wanted to be an actress? How did you break into the business?
As far back as I can remember, I wanted to dance, sing and perform. So I started dance, figure skating, drama classes and any other form of "play" that I could. I had no idea it would be something I did for the rest of my life, but there was nothing else I wanted to do. Although I did end up trying out several different fields before committing to acting, I knew in the deepest part of heart that I wanted to be an actress. It always amazes me when people say they "fell" into it. There is nothing easy about this profession, and if you don't love it with the core of who you are, I don't understand why you would ever put yourself through the process! It is incredibly challenging. But I wouldn't have it any other way.
What is your favorite kind of role to play?
I've been fortunate to play many different types of characters thus far. However, I really enjoy playing roles that are different than who I am personally. You can have these small fantasy worlds where you can be people you would otherwise never get to be: a doctor, a lawyer, a ruthless business woman. I hopefully have many more personalities to play, and I can't wait to see what's next. 
What has been your favorite role to date, and why?
My favorite role to date was being cast in Alien Vs Predator 2: Requiem. Not only was it an amazing experience on set, but it's when I realized I was actually doing this. It was such a huge film and I was a big fan of the movies growing up. It was all so incredible to me and I remember crying on my way home, being so grateful that I was a part of something so special. I'll never forget it.
How do you spend your time when you're not filming?
First would be spending time with my amazing little dog Coco Freebird! I do everything with her, she's awesome! I like to decorate my house, and clean (yes, cleaning!) and having dinner with friends, watching hockey and playing video games with my brother. I absolutely love any kind of outdoor activities like snowboarding, hiking, surfing, and laying out on the beach if I ever get the time....which is not often!
Are you a horror fan? What was the experience like on set for Saw 7?
Yes, I am! I've always had a fascination with the genre because having brothers, you tend to be influenced by what they watch! So of course, blood, guts, gore and video games were a big part of growing up. I'm lucky to work on films that my brothers and friends actually know and love.
That must be great for them to see you in those films!
It's pretty neat because my older brother Kevin helps me make decisions on roles and choices I make for auditions because he's so familiar with the history and terminology of a lot of the material. So when I book, he is the first person I call to share the news with! As for SAW 3D: One word. INTENSE.
Have you ever had any weird experiences in the casting rooms?
One big one comes to mind! It was for a low budget series, and they had me read lines and come back about seven times. Each time they wanted to see "more". By the last time I went in, they had me howling and barking like some crazy werewolf and I thought to myself "What the heck am I doing?" And they didn't even cast me in the end! That was the most bizarre experience of my life!
What are some of your favorite TV shows or films?
I love TV! I'm always keeping up with what's current, from scripted dramas like "The Good Wife", to "Private Practice" and anything on HBO. I also like reality shows: "The Bachelor" and "American Idol". Some people are critical of reality TV, but there's no arguing that it's relevant and pulling in the viewers! So I pop my corn, and enjoy with the rest of America!
Now that you're a star yourself, this probably doesn't happen to you: but have you ever been star-struck?
All the time! I'm still amazed at some of the events I attend and some of the people I get to work with. The most recent and most incredible experience for me was arriving at a casting and seeing that Lily Taylor was signed in before me. I was amazed to see her there and it was a little emotional for me. I watched her in so many of my favorite films growing up, "Dog Fight" in particular.  She inspired me to be an actress. It was an amazing moment for me.
What's next for you? Any projects on the go? (Talk about producing if you'd like)
I am in negotiations for a project in May, and auditioning every day for future projects. There's lots of great stuff coming up!
Are there any charities or organizations that are dear to you? How do you help out? What can others do?
I volunteer as often as possible with organizations like The Food Bank, The Special Olympics and any other charities that need help bringing attention to their cause. I recently signed autographs for Life Long Dreams, which helps special needs children live out their dreams of acting, dancing and singing. It was amazing to meet some of the kids and help with such a great cause. You can visit www.lifelongdreams.org to learn more.
How can your fans get to know more about you? 
Through my official website and my Twitter. I try to post pictures and be as open as I can about things!