Exclusive Performances, Rap Battles, And Rare Interviews On 'Hip Hop Life'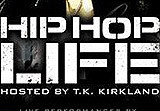 Screen Media will release Hip Hop Life, a documentary featuring some of the country's top underground freestyle rappers as they face off in a battle royale for "Rhyme City Supremacy"--in stores April 3, 2007.
The documentary pitts Houston vs. Detroit. Detroit's toughest MC battle rappers, who have appeared on Showtime, VH-1 and MTV, face Houston's best street rappers, all on the verge of stardom themselves. Only one 'hood' will survive this intense verbal slaughterhouse and be crowned the ultimate MC Battle city.
This quest for Rhyme City Supremacy is uncensored, unpredictable and unmerciful verbal warfare of the most intense degree. It's Detroit versus Houston as comedian T.K. Kirkland from
G-Unit
blazes the mic, while
Jadakiss
,
MC Lyte
, and Freeway judge this one-time only Hip Hop battle. Featuring real battles, real street footage and live performances by award winning platinum artists like
Rick Ross
and
Young Jeezy
, "Hip Hop Life" showcases the rhyme skills and tight tracks of the hottest performers in the underground world of hip hop. Other highlights include interviews with renowned rapper
Fat Joe
and more.
The super charged DVD contains over 45 minutes of special bonus features including a look behind the scenes, a history of the 'City vs. City' Battle, plus an exciting battle between Ohio State and Ohio University that will keep audiences guessing. In addition, the disc is packaged with an exclusive mixed tape CD that features some of today's hottest young hip-hop stars.
Bonus Features
-Over 45 minutes of bonus material
-Special behind the scenes footage
-History of the "City vs. City" Battle
-Ohio State vs. Ohio University Battle
Hip Hop Life Trailer Video
Large
|
Small
(Streaming audio and/or video links may expire without notice)