Exclusive: Pauly D Supports Child Literacy With Flat Stanley Project (Photo)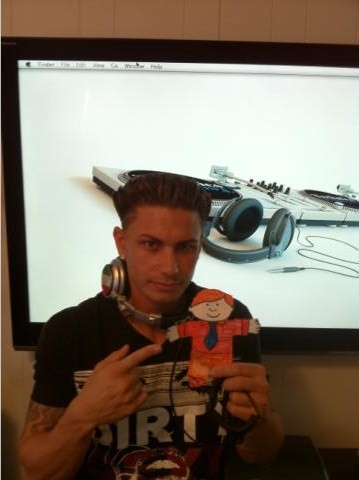 As if DJ Pauly D couldn't get any cuter (Starpulse loves him!), now he is using his celebrity for good by supporting his sister Vanessa's son Austin as he takes part in the international childhood literacy program The Flat Stanley Project.
This community and writing skill building program allows kids to correspond with each other through journals detailing all of the places Stanley goes with them. In this case, Pauly D is making sure his nephew has the coolest stories around.
"Flat Stanley is awesome, wish I had this project when I was in school," reveals Pauly D exclusively to Starpulse. "I love taking this little dude everywhere. We have been spending a lot of time in the studio. He's my new opening DJ! DJ Flat Stanley, better watch out for him."
And where has Stanley been so far?
"He's been spotting me at the gym, taking conference calls, you know daily stuff LOL, being on the road constantly. The thing I miss the most is my family so to be able to participate in something my nephew Austin is doing in school, I feel honored. I have been very careful with Flat Stanley, he's fragile! I have to send him back tommorrow. He may be going back with a blowout!"
For more fun photos and details on where to find Pauly on his last day with Stanley, log onto www.twitter.com/DJPaulyD.