Exclusive: One On One With Victoria Justice Of Nickelodeon's 'iCarly'

Victoria Justice
, 16, is an old pro when it comes to Schneider's Bakery Productions. Having previously starred on
Zoey 101
as bad girl Lola, she makes her debut on
iCarly
this Saturday night with the movie event, iFight Shelby Marx. In this interview, we ask the teen star ten questions regarding ultimate fighting, her love of music, and which
Twilight
hunk she supports.
Starpulse:
Your character is an MMA [mixed martial arts] fighter. Do you watch Ultimate Fighting or any other extreme sports?
Victoria Justice
I didn't before, but Dan [Schneider] actually wrote the part for me based on this female fighter named Gina Carano. She's really cool, not your typical fighter. She's really pretty and girly, but tough too. I'd love to be like her. It's been cool to play my character [Shelby Marx].
AD:
If you could fight any celebrity, who would it be?
VJ:
Just for fun, like joking…probably
Johnny Depp
. Just because it's the closest I'd be able to get to him (laughs).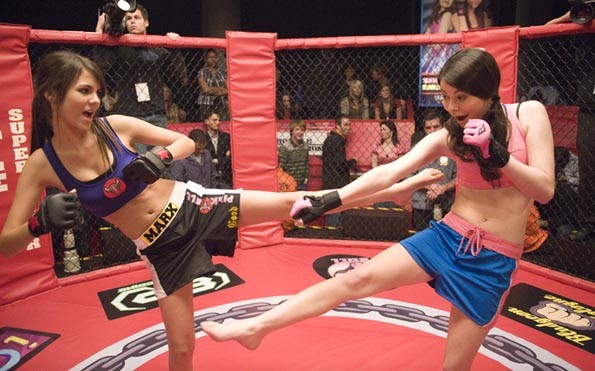 Image © Nickelodeon
AD:
If you had your own webshow like iCarly, who would your co-host be?
VJ:
Probably one of my really good friends, who just gets my humor and is always there for me.
AD:
iCarly is full of crazy slang like "jank" meaning bad. Do you use any crazy slang?
VJ:
Not really. Lately I've been using "grody" for gross, it's an older 80s saying, but I'm trying to bring it back. Other than that, I used to say "jk" but it's become a joking thing to say "jk all the way". That's just my little Victoria-ism.
AD:
If you had to date Spencer or Freddie, who would you choose?
VJ:
There's no choice but Freddie, he's closer to my age group! (laughs). I think Jerry [Trainor] is a great guy, though.
AD:
[Carly's brother] Spencer loves crazy socks. What's the craziest thing you've ever worn for a role?
VJ:
Oh, lots of things. First, for Zoey 101, I played a goth girl- well an actress who was pretending to be a goth girl. I had a spiky wig and piercings, lots of fishnets, with this whole rocker chick thing. But for a new movie I'm doing for Nickelodeon [The Boy Who Cried Werewolf], I got to dress as a werewolf, with prosthetics and fake fingernails…I didn't even look like me!
AD:
How was it working on the musical Spectacular!?
VJ:
It was awesome. I made a lot of great friends I still talk to to this day. And I got to sing, which was a dream come true for me, and the soundtrack was on iTunes. It was great.
AD:
What's on your iPod-or should I say PearPod-right now?
VJ:
(laughs) I've been listening to "Rehab" by
Rihanna
a lot. One of my favorite bands is
Coldplay
. Oh and
Sara Bareilles
is amazing, she's like my hero.
AD:
With the whole Twilight craze going on now, and you being a teenage girl, I have to ask…Team Edward or Team Jacob?
VJ:
I'm going to be diplomatic and say Team Both. (laughs) I hope everything works out for both of their characters.
AD:
What upcoming projects can we look forward to seeing you in?
VJ:
Well, like I said, there's the werewolf movie for Nick, (and an episode of
True Jackson VP
that will air in September).
**The premiere of the new iCarly movie, iFight Shelby Marx will air Saturday at 8pm ET/7pm CT only on Nickelodeon.
Interview by
Ashley Demma
Starpulse contributing writer
Click the pics for iCarly's gallery: