EXCLUSIVE New 'Hunger Games' Artwork!
Just in time for the opening of "The Hunger Games" – cool new EXCLUSIVE artwork pics you won't see anywhere else!  Including a fabulous chalk art portrait of half Mockingjay, half Katniss Everdeen ala Artist May Yip...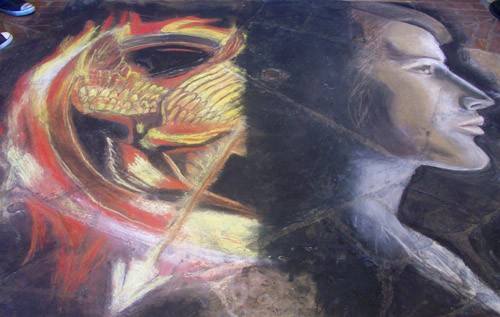 A series of finely sculpted Katniss arrows – made out of 33mm film! (Creator Christina Lopez rules!)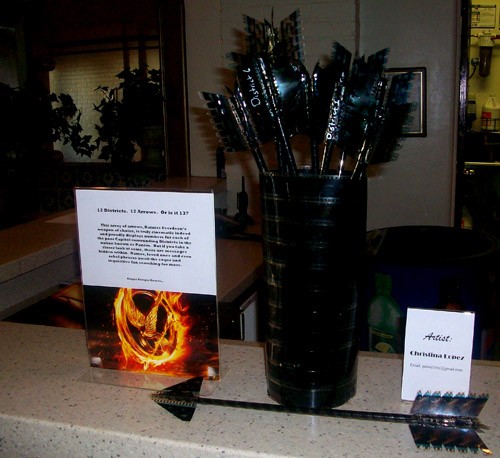 The description card reads:
12 Districts.  12 Arrows.  Or is it 13?  This array of arrows, Katniss Everdeen's weapon of choice, is truly cinematic indeed and proudly displays numbers for each of the poor Capitol surrounding Districts in the nation known as Panem.  But if you take a closer look at some, there are messages hidden within.  Names, loved ones and even rebel phrases await the eager and inquisitive fan searching for more. 
Happy Hunger Games...  
And an awesome toon-like red version of the Mockingjay from chalk maven Alyson Powers...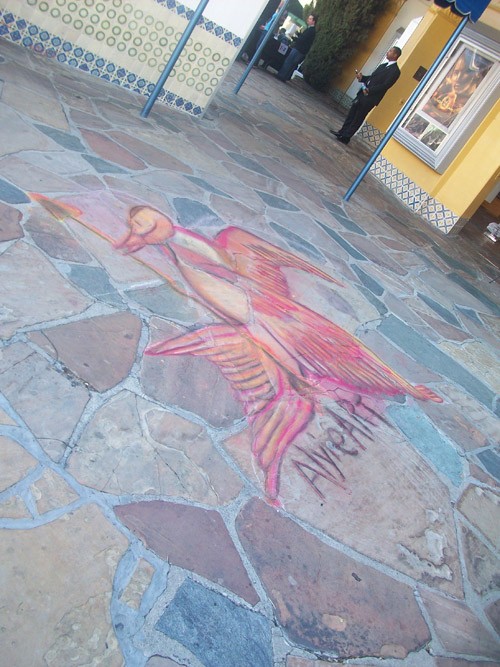 ALL can be viewed in person as part of the wondrous celebration of all things Hunger Games at the famed Regency Village Theater in Westwood, California! (Advance tickets for "The Hunger Games" are on sale now!) Prizes, giveaways and exclusive art for the rabid fan – Westwood Village has your Games covered! 
PLUS you may have a possible 40 Ft. sighting of the infamous Leonardo DiCaprio and Kate Winslet wrapped around the Village Tower ("Titanic 3D" anyone?!) – but you're gonna have to come to Westwood to check that one out!
In the meantime enjoy the 'making of a mockingjay' below and Happy Hunger Games!